Physician Assistant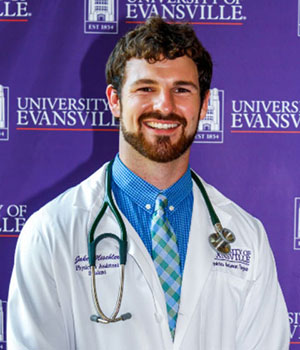 Hometown: Evansville, Indiana
Undergrad/Master's degree/ College attended: Biology Major/Psychology Minor, University of Southern Indiana
What made you want to be a PA?
The medical field in general has always been my calling. Both of my parents work in the field, so I naturally had a strong interest from a young age. I had always thought that I would go to medical school, but after spending a couple of years working in the hospital and many hours shadowing, I found that the physician assistant profession was a better fit for me. I say this because I observed PAs spending far more time with the patients. I like that as a PA I will be able to diagnose, prescribe, and treat patients the same as physicians, yet I will get to spend some extra time actually educating the patients on their ailments.
Why UEPA?
I had visited and interviewed at several other PA programs, but UEPA was the only program that treated me more than someone who could merely check the boxes and become a "cookie-cutter" PA. Having visited five other schools and barely getting to see even a PA professor, I was astounded when UEPA's program director, Michael Roscoe, offered to meet with me several months prior to interviews to get a cup of coffee. After hearing about his philosophy and finding out that the UEPA's goal is to make PA's who can not only pass boards but also excel in the PA life after school, I knew that UEPA was the place for me.
How hard is it…really???
There is no doubt that PA school is a challenge and that some sacrifices have to be made to be successful, but believe me, if others can do it, SO CAN YOU! I don't think that the actual material is any harder to comprehend than most undergraduate biology or chemistry classes, rather it is the shear amount of material covered that is the challenging part. Because of this, managing your time is imperative. I've found success by knowing not only when I need to study but also when I need to take a break in order to decompress from the day's stressors.
Did you do anything that really helped you prepare for PA School?
My undergraduate degree in biology really prepared me for the rigors of PA school. Although PA school is taught at a faster pace, the same basic study skills and dedication needed to succeed in a biology program are used for PA school. To prepare for the necessary medical knowledge and basic yet challenging ability to communicate with patients and coworkers, I HIGHLY recommend working in a hospital. Throughout undergrad, I spent one year transporting patients throughout the hospital, one year as a patient care technician on a medical/surgery floor, and two years as a EMT in the emergency department. These experiences gave me great insight to the medical field and further strengthened my desire to become a PA.
What is your best advice for the interview process?
UEPA has multiple-mini-interviews (MMIs), which is where you go from station to station and are put in many different scenarios to see how you respond to stressful situations. Because there is little time, the interviewers really get to see your natural responses and learn who you are as a person. Although the scenarios are not necessarily medically related, I found that my best preparation was actually through working in the emergency room. In a way, the interview was similar to my experience in the ER where I went from room to room interacting with patients that were yelling, crying, in tough situations, needed someone to talk to, couldn't hear or see well, or in severe pain. These experiences taught me how to leave the problems of one patient at the door while interacting with a completely different patient with different problem (which is exactly what you have to do in an MMI).