Multimedia Communication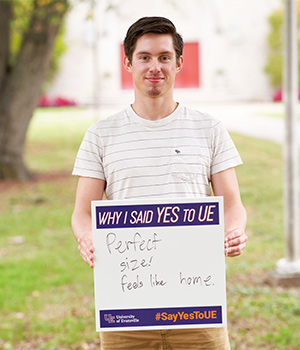 Class Year: 2023
Jamie Born has been creating videos and short movies since he was 10 years old, so a major in multimedia communication was one of the easiest decisions he could make. But it was the High School Changemaker Challenge that led him to the University of Evansville.
As an Evansville native, Jamie initially wasn't planning to stay in the area for college. But the Changemaker Challenge opened his eyes to all that UE had to offer. "I knew I could grow here," he said. Jamie and his teammates also took first place in the competition, earning him a full tuition scholarship to UE.
In his communications classes, Jamie enjoys working in the studio with state-of-the-art film equipment. Additionally, he has learned a lot from the years of experience his professors bring to the classroom.
"These classes have already provided valuable experience that I hope to apply towards my career," he said. "I've even conducted my own video shoot with real actors, and it was such a rewarding opportunity that got me excited for the future." Jamie hopes to work for a marketing agency after graduation, focusing on video production and marketing campaigns.
Jamie says the small campus is what sets UE apart from other universities. "At UE, you can walk from one side of campus to the other in just minutes," he said. "And during that time, you'll recognize faces and know those you're passing."
He also encourages students to enroll in a ChangeLab with other students. This not only provides great experience working with a team, but also allows you to set goals and take action to create positive change around you.
"Come to UE and join our family. There's a lot of room to grow, and you're going to succeed here."