Organizational Leadership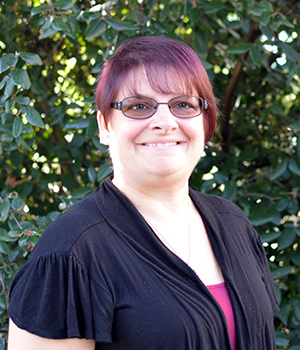 Class Year: 2018
Hometown: Evansville, Indiana
"The Golf Cart Girls" Make Their Mark on Campus
Julie Wilson didn't know she'd become one of the "golf cart girls" on campus.
It all started with her Adult Education Capstone course in her BS in Organizational Leadership program.
When Wilson considered which nonprofit organization to choose as her client for the project, UE was a no brainer. After all, Wilson's history with UE goes back over twenty years, when she first started working here in 1999.
Making a difference on the campus they both love made sense for Wilson and her class partner, Shannon Bryant, who was also both a UE student and employee.
After asking around about what they could do, they heard that the Recycling Program wanted to save money and time by replacing their van with a golf cart.
Wilson and Bryant decided to take the project a step further by getting a battery-operated golf cart with solar panels to keep it charged. To pay for the golf cart, they entered the Sustainability Challenge, which provides funding for environmentally impactful projects.
After winning the $13,000-prize to fund the golf cart, they worked with an on-campus art designer to come up with logos for the hood and side panels. They decided to make the hood logo the Sustainability Challenge logo to honor where they received their funds, but instead of putting their names on the sides, they chose to represent the Adult Ed Capstone Project.
Winning awards — and much more
Their sustainability project garnered attention beyond campus.
"My partner and I have been recognized as 'the golf cart girls' and we both won the Indiana Council for Continuing Education Student Award winners for 2018. I feel great that I could be a part of a great project with my partner."
In addition to winning the award, Wilson learned a lot by doing the project.
"During this whole process, I learned that for laying the foundation of a project, it's critical to talk to the right person, to keep everyone in the loop, and that even though there will be challenges on the way, never give up."
For solar on campus, it's just the beginning
While one golf cart may seem like a small step, in reality, transitioning from gas-operated carts to battery-operated carts has brought many benefits to UE and the community, including cutting down on the purchase of fuels over time, eliminating carbon emissions and reducing noise pollution. It also exemplifies UE's commitment to creating a sustainable campus.
Wilson learned that something that starts with one person can have a ripple effect for years to come. She hopes to inspire others to recognize that small changes can make a large impact on our environment.
"My hopes are that I started an effect across campus to get battery-operated golf carts and start getting solar panels to give them the charge. Changemaking is a small spark and hopefully it will become a glow so big, everyone benefits from it."