3+3 Exercise Science, Pre-Physical Therapy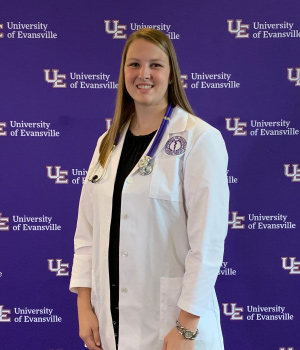 Class Year: 2020
Hometown: Jasper, Indiana
Why you chose UE?
My name is Katelyn Hedinger and I am currently in my 4th year of the 3+3 Exercise Science program and in my first year of the Doctor of Physical Therapy program. I was drawn to the University of Evansville because of the Direct Entry Physical Therapy Program. When I got my direct entry into the University of Evansville's Physical Therapy, I knew UE was the place for me.
What is your favorite thing about UE?
Once I came to the University of Evansville, I soon figured out that this was the place I belonged. I loved the small campus feel and how involved I had become in the campus community through my sorority, campus organizations, and campus activities. The faculty and staff were always there to help me with class work and with things outside the classroom. I really felt supported to learn and grow here at UE. I also loved learning about the opportunities to study abroad at Harlaxton in Grantham, England. I spent one summer at Harlaxton and it was the most amazing and eye-opening experience.