Physician Assistant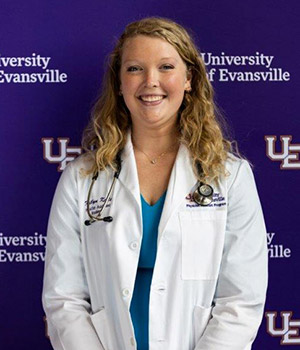 Hometown: New Palestine, Indiana
What made you want to be a PA?
I love the versatility of the PA profession. I like that I can switch specialties with ease. I appreciate that I can be a part of the healthcare team and work closely with the doctors, nurses, and other medical professionals.
Why UEPA? Or what makes UEPA different than other PA Programs?
UEPA's family atmosphere is what caught my attention the most. The faculty and staff truly care for each and every student. My first glimpse of the UEPA program was during my senior year of college on the direct entry interview day. At this point, the very first PA cohort had just started. I have seen nothing but consistency in everything Dr. Roscoe promised that the UE PA program would be. I am so happy I chose UE.
Are students at UE competitive or collaborative?
Students at UE are very collaborative. When you start PA school you will learn that the competitive atmosphere no longer exists. Instead, UEPA encourages collaboration and camaraderie. Your cohort will share study guides and resources that they find helpful. The goal is for everyone to succeed.
If you could go back and give yourself one piece of advice, what would it be?
Give yourself grace and give your worries to God because stressing about things you can't control won't make a difference.