Physician Assistant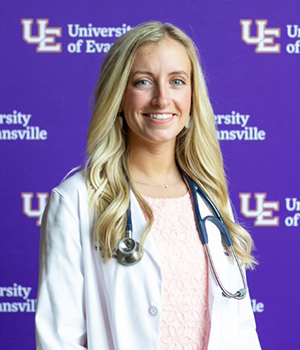 Hometown: Valparaiso, Indiana
Public Health at Purdue University
What made you want to be a PA?
I was always interested in the medical field growing up and heard about PA in undergrad. My dad had a procedure done at a hospital in Chicago and had a PA that was amazing and gave him such great and individualized care. I ended up shadowing her and fell in love with the profession. I gained interest in the ability to be trained through the medical model and also have ability to change specialties throughout my career.
Why UEPA? Or what makes UEPA different than other PA Programs?
UEPA stood out to me during the application process because of the emphasis on looking at the applicant holistically instead of just at your GPA. From the moment you walk through the doors on interview day, you feel at home. You are welcomed as a member of the family, and the staff is really there to support you and help you succeed. UEPA emphasizes your mental wellness and wants you to take care of yourself so you can be a great provider.
What is your favorite class?
Medical imaging and therapeutics
How hard is it…really?
Hard but doable, and if you put in the hours during the week you will still have time to do the other things you enjoy.
Did you do anything that really helped you prepare for PA School?
I think one of the best things would be to get as much patient care experience as possible and get the experience in different settings/specialties. It really helps in classes when you have seen or at least heard of the terms and procedures beforehand. For example, I worked in a pulmonology practice and saw medical imaging several times daily, so it helped me in our medical imaging class to have been previously exposed to the different types of scans.
What is your best advice for anyone working on the CASPA application?
Start early! I would suggest starting your personal statement beforehand and having other people in the medical field look it over. I think it is beneficial to create relationships with physicians and PAs before applying. This will help later on when you need to ask for letters of recommendation. You can't control when those get submitted, so definitely ask early and politely remind and thank them after. These people also could end up being potential employers after graduation. Keep getting patient care experience and shadowing and add it to your application even after submitted. It all may seem like a lot, but stay organized, submit early, and it will all be so worth it.
What is your typical day like?
I usually wake up before class to exercise or walk my dog. I will get to class early (most days) to try to prepare for the day. After classes are over, I will study until about 7/8 and then wind down for the night and relax before doing it all again the next day. I have always been more of a morning person and have found this schedule works best for me.
What specialty do you want to pursue? Why?
Right now, I am interested in pulmonology or cardiology. I had the most experience in those two fields through work and personal experiences before PA school and have always taken an interest in them. My major in undergrad was public health and had my concentration largely focus on the impact of noncommunicable diseases on a person's quality of life. I feel both cardiology and pulmonology have the opportunity to help people daily with noncommunicable diseases and really improve their quality of life. I am also excited to learn more about other specialties once I go on rotations and will be interested to see where I end up.