Physician Assistant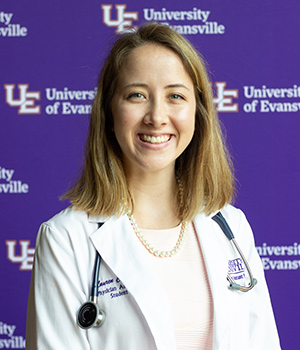 Hometown: West Lafayette, Indiana
Undergrad/Master's degree/ College attended: Purdue University
What made you want to be a PA?
The versatility and flexibility of the profession, the opportunity to explore different fields of medicine, the service aspect, and so much more!
Why UEPA? Or what makes UEPA different than other PA Programs?
At UEPA, I feel at home because everyone truly cares about me as a person, not just as a student. I have felt valued here ever since Dr. Roscoe told us on orientation day that they were honored that each one of us chose UEPA. At UEPA, I feel challenged yet encouraged to become "great", all the while growing into the best version of myself. The family culture that the faculty have worked hard to cultivate here is truly something special and I am eternally grateful to be apart of it.
How did you prepare yourself for the academic load of being a PA student?
I prepared myself for PA school by developing solid study habits and time management skills in undergrad. I was able to carry these tools into PA school and fine tune them to a professional school level. My advice would be to figure out how best you study early on rather than having to start from scratch in PA school!
What is your typical day like?
I wake up, make a cup of coffee, read my devotional, and listen to music to get my mind in the right place before a day of class. If I have an exam that day, I'll review my notes. I try to make a hot breakfast and pack a lunch before getting ready for class. I then go to class where I see my favorite people and learn a whole lot! After class I'll come home, rest for an hour or so, and then get to studying. Sometimes I'll go to a local coffee shop for a couple hours for a change of scenery. I usually end the night of studying around 9/10pm, watch some Netflix and do yoga to unwind, then head to bed! If it's not too heavy of a study day I'll watch a movie, walk, go to Target, or get ice cream with friends. ☺
What specialty do you want to pursue?
I have many interests, which luckily this career path allows me to explore! I have always been interested in surgery and pediatrics. I have recently started thinking about Emergency Medicine and Critical Care/ICU too, which would be a good challenge! Eventually, I'd love to join a medical mission organization and provide primary care in underserved countries!