Public Health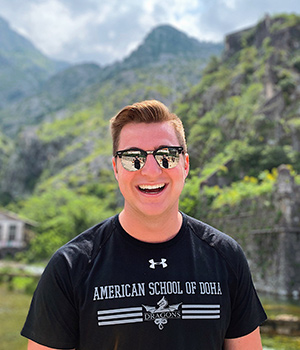 Class Year: 2023
Hometown: New Brighton, PA and Doha, Qatar
Why you chose UE?
I chose UE over other programs because of the personability of all of the faculty and staff that I met throughout the entire admissions process. From my first steps on campus I felt that the faculty and the staff are in my corner, rooting for me, and checking in on me all the time. Also, growing up overseas in the Middle East, I wanted a smaller school where the professors would know my name and would want to make a genuine connection with me. Lastly, I met some of my closest friends at UE on day one because we connected over being direct-entry PA students.
What is your favorite thing about UE?
The number one thing that I love about UE is the atmosphere on campus. Whether you are walking from Ridgway to Graves Hall or from SOBA to Hyde Hall there are always be people that will smile and engage in small conversation with you. The campus community here welcomes everyone to the UE family.
Any other helpful information about your major or any advice, remembering what it was like to go through the college search?
One of the biggest pieces of advice that I could give to those starting their college search is to look at the college as a whole experience. It can be easy to just judge a college based on their program or academics, but I would say to make sure that you look into their extracurricular activities such as Greek life, intramurals, clubs on campus and other activities. Academics is important but having a fulfilling college experience is as well.