Physical Therapy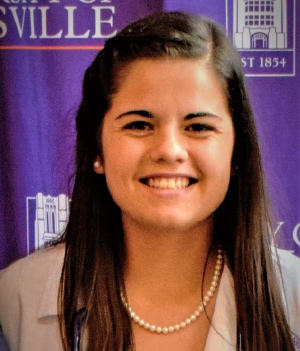 Class Year: 2021
Hometown: Kansas City, Missouri
ATC, LAT, DPT '21
A native of Kansas City, Missouri, Mackenzie knew during her senior year of high school that she wanted to be a physical therapist. Looking at schools that offered a direct entry program, Mackenzie was impressed by UE and liked that they consistently reached out to her. She also wanted an undergraduate degree in Athletic Training, so it was an advantage that UE offered several track options. "While I was nervous about making a 7-year commitment to a new city I had never been to, I am so glad I made this decision," said Mackenzie.
Throughout her time in the program, Mackenzie's favorite classes were human physiology and neurophysiology. In the higher-level courses, she found herself continually going back to the basics of her physiology classes.
"Our DPT faculty is unmatched," Mackenzie said when asked about the strengths of the Doctor of Physical Therapy program. "Knowing that your professors truly want to help you be successful is incredible," she said. Through the challenges in the program, and particularly during the COVID-19 crisis, Mackenzie appreciated the lengths the DPT faculty went to just to put a smile on the students' faces.
Reflecting on her time in the program, Mackenzie said the key to success is balancing PT school with other aspects of life. "Working, exercising, and volunteering has given me so much to look forward to beyond school, which is imperative to my success," she said. The various responsibilities trained her to develop strong time-management skills, and she felt that was beneficial for online learning during the COVID-19 crisis.
"Make a list of priorities" is Mackenzie's advice to students considering the DPT Program. "Find what works best for you, create a schedule, and stick to it," she also said. "As you move from undergraduate to graduate school, the DPT Program becomes your full-time job and top responsibility. This mentality pushed me to achieve my goals and succeed in the program."