Exercise Science and Physical Therapy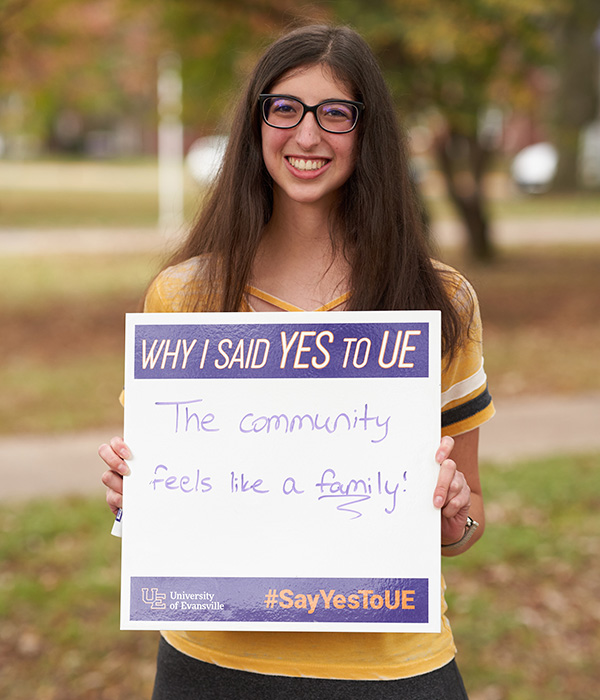 Class Year: 2022
Hometown: Aurora, Illinois
Makenna DeCapua, from Aurora, Illinois, is expected to graduate from the University of Evansville with a pre-PT major in exercise science and a minor in medical Spanish in May of 2022. She plans on graduating as a Doctor of Physical Therapy in 2024. After earning her degree, Makenna would like to remain in the Midwest working as a physical therapist. When asked why she chose to attend UE, Makenna responded, "I chose UE because of the welcoming community, great professors, and personal touch that comes from being at a smaller school."
Makenna chose her degree based on a personal experience: "I decided to pursue physical therapy as a career after going through three leg surgeries of my own. I loved that I would be able to walk alongside people through their recovery and give them the tools they need to regain their mobility and freedom." Makenna also spoke about the influence of her mom, who has strongly supported her goal to become a physical therapist.
Makenna's involvement on campus does not end with the Pre-PT program; she is also a member in several organizations on campus, including: Student Christian Fellowship, Exercise Science Club, and Ace Care, which is a student-run, pro-bono PT clinic. She uses her knowledge of medical Spanish to translate for Ace Care's outpatient branch, Ace+PT, which removes the language barrier for Spanish-speaking participants. Makenna also loves watching the UE basketball team play at the Ford Center in downtown Evansville.
Makenna's favorite course at UE was Intro to Literature. She discussed how her professor, Dr. Robert Baines, associate professor of English at UE, made it interesting and engaging even as a gen-ed class. "He made the reading so engaging and provided us helpful feedback so we could continually improve upon our work." With the class she found a renewed passion for reading, and even found herself discussing the material with friends outside of class.
When asked what sets UE apart from other universities, Makenna responded, "UE is not just a college, but also works to be a force in the community through volunteering and innovation." She praised UE's desire for students to succeed on an individual level, and professors' personal involvement in helping students to grow and learn.