Physical Therapy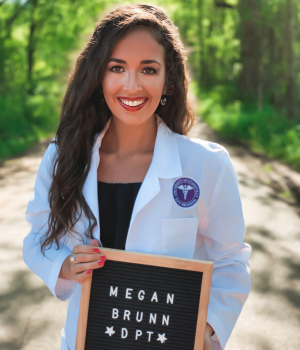 Class Year: 2020
Reflecting on her time in the DPT Program, Megan is particularly thankful for the constant support she received from staff, faculty, and classmates.
"Throughout my time in the DPT program, the faculty and staff were always cheering me on," said Megan. "Their support kept me motivated towards achieving the ultimate goal of becoming a physical therapist and reminded me why I joined this program to begin with."
Megan believes one of the advantages of the program is the knowledge and expertise of the faculty. "The professors have so much to offer to your class, but they still care about you as a whole," she said.
If she could offer one piece of advice to incoming students, it would be to "work hard." Megan said dedication to the program is critical, but it's also important to take time to do the things you enjoy. "Surround yourself with a great support system, and you will succeed," she also added.
A Class of 2020 graduate, Megan is working in a skilled nursing facility located in Hopkinsville, Kentucky.