Physician Assistant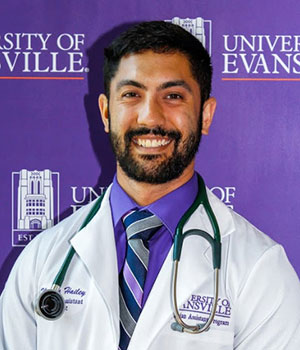 Hometown: LaVergne, Tennessee
Undergrad/Master's degree/ College attended: Biology: Health Sciences at Tennessee Technological University
What made you want to be a PA?
You can have the independence to use critical thinking to solve a problem yourself or collaborate with your peers. There are also so many opportunities for growth in the field.
Why UEPA? Or what makes UEPA different than other PA Programs?
You immediately feel the family atmosphere walking through the doors, even on interview day.
What do you find is your biggest challenge in being a PA student?
Finding the best way to study for each class. I had to change my study habits from undergrad. It is definitely more challenging, but it is possible.
How do you balance school and other aspects of your life?
I try to have an 8-5 mentality. After 5 I relax, workout, study for maybe another hour. On the weekends I have the morning to myself, but try to study from 12-3. I still have plenty of weekends to go back home or weeknights I meet with classmates or other friends for food.
How hard is it…really?
It is one of the most challenging things I have done, but if you have good time management skills it is doable.
Did you do anything that really helped you prepare for PA School?
Working in the ICU helped me greatly. It allowed me to interact with patients (which is very helpful when it comes for OSCEs). Honestly any job in the medical field would help.
What is your best advice for the interview process?
Relax, be yourself, and have fun with it. The interviews are designed to where it feels like it's not an interview at all.
Are students at UE competitive or collaborative?
When it comes to course work, we are a team through and through. But on the intramural field, we're as competitive as they come.
What is your typical day like?
Classes would start about 8 or 9 and last until 3 or so. I try to study in the gaps in between classes. When I get home I would relax for an hour then go to the YMCA about 4:30. I would start cooking dinner about 6:30 then do some light studying as I eat till about 8:30 or 9:30.