Environmental Science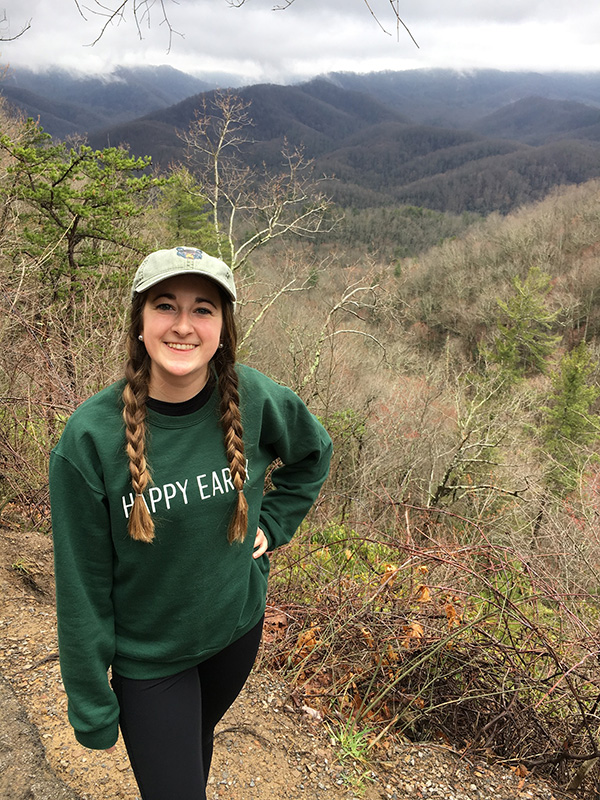 Class Year: 2020
Environmental Scientist, GBMc& Associates – Little Rock, Arkansas
How did your UE education impact your career path?
In a nutshell, my UE education was individualized, diverse, and rigorous. Going to a small school gave me more flexibility in my courseload each semester, allowing me to work with my advisors to earn the education I was seeking. I handpicked different electives, both in the STEM field and in arts & humanities, that diversified my courseload and acknowledged both my major's requirements and my passions.
With such varied courses on my plate, I practiced prioritizing and juggling many different projects, assignments, and exams—all with different timelines and deadlines. In addition, most of these classes were very challenging, requiring strict time management skills and critical thinking to succeed. These skills are what prepared me to succeed in my current career and to properly provide reliable work to my company.
What advice do you have for current students?
Do not hesitate to find internship opportunities on campus, in the community, or across the nation. While your classes are crucial to understanding concepts, real-world experience is just as crucial to landing a job after college. Not only does real-world experience earn you valuable and relevant skills, it also helps give you an idea of what you do and don't like about your field. You may think that you want to work in a lab for your career, but perhaps your internship has steered you more towards a career that's mainly field work and outdoors. If you find an opportunity you would like to pursue, do not be afraid to ask your advisors for guidance in the application and interview processes. Use your advisors to help you find opportunities to grow your resume.
How did your undergraduate experiences prepare you for postgraduate and career?
My advisors helped me to earn two awesome internships/experiences. My first internship was working at a field research station on the Ohio River in Northern Kentucky. In this internship, I was on the 'stream team' and I helped collect water, macroinvertebrate, and fish samples for stream assessments. This internship was crucial for me in learning techniques and methods that I use in my current position. I am thankful for my advisors who helped me build my resume and cover letter for the application as well as provide excellent references for me.
My second experience was a semester in Environmental Science with the Marine Biological Laboratory in Woods Hole, MA. My advisor was actually the one who told me about the Marine Biological Laboratory and asked if I was interested in applying for the program. With his help and guidance, I was the first student from UE to experience this opportunity. This program was an integral part of experiencing real-world science and filled my resume with exceptional skills. This semester was filled with mostly field work, lab work, and independent studies. This was so important for me to work in a heavily hands-on environment and experience working with real-life scientists. I thoroughly enjoyed my time living in Cape Cod and learning from the scientists at the institute. This experience helped me decide on a career with lots of field work, and with
this experience on my resume, I gained an interview with my current employer. I am so incredibly thankful for my advisors who worked with me throughout the entire application process and helped me in earning this opportunity.
How did the UE community shape you?
I originally came to UE for three reasons:
Student-to-faculty ratio and small class sizes. I loved hearing that UE professors know their students by name and worked together often.
Many opportunities for student engagement and leadership, including the fact that I could be a science major and sing in the women's choir. The student opportunities seemed endless at UE.
Harlaxton. This one is self-explanatory, but it's amazing that I could study abroad as a STEM major with matched tuition.
When I arrived at UE as a freshman in 2016, these three reasons became a reality as I interacted with faculty, got involved in many student opportunities, and planned my semester at Harlaxton—and they remained true throughout my freshman and sophomore years. I loved that I could be a science major, German student, math student, choir member, sorority chair, club president, and dance team member without any push-back or restrictions. I loved that I could study abroad as a STEM major and that my professors helped make this possible. I loved that I had classes and friends with all different majors. I loved that I could dream up an event, seek support from faculty and students, and make that event a reality. The trust and support between faculty and students at UE is what I loved most about UE—I knew that I could do anything as long as I had support.
In fact, the support my faculty had in me is what led me to successfully start my career after college. They helped me find and land experiential internships that brought my resume to the top of the stack for my first job out of college (there were over 100 applicants for my current job… I am one of two that they hired—the other lucky candidate having a master's degree and one year of experience). They proofread my cover letters and served as excellent references for my potential employers. Because of their support in me, I landed the job of my dreams during a global pandemic—a very difficult time to find a job, especially as a recent graduate. My current employer still reminds me of how my professors spoke very highly of me and answered every one of their questions about me, and they were impressed at how well my professors actually know me (personality, strengths, weaknesses, talents, etc.). This is why I loved UE both as a student and now as an alumna.