Physical Therapy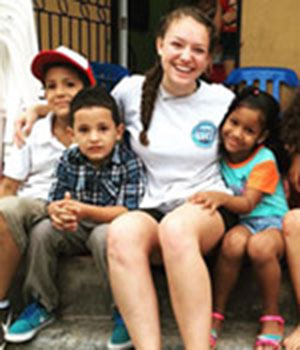 Class Year: 2021
Hometown: Nashville, Tennessee
Major: BS Public Health-Health Policy
Doctor of Physical Therapy
BS 2021 and DPT Class of 2023
Ragan Hummel decided her junior year of high school that she wanted to pursue physical therapy. After searching the Internet for colleges and universities with accredited physical therapy programs, she came across the University of Evansville. "I scoured the website and was highly impressed to learn about the Direct Entry Physical Therapy (DPT) program," she said. "After further exploration of the University and what it stands for, I got more and more excited about the possibility of coming to such an incredible institution."
Ragan first became interested in physical therapy during high school. "I ran cross country and track all four years and was frequently injured with shin splints and other common runner injuries, thus I frequently went to physical therapy for treatment," she said. It was during an internship at Vanderbilt University Medical Center in Nashville, Tennessee, that she decided to pursue physical therapy as a profession. "After all that I experienced at the internship, I knew in my heart that this is what I want to be doing for the rest of my life, and that I would do whatever it takes to achieve it."
Her goal after graduation is to use what she's learned to help people around the world. "It is my goal to hopefully learn fluent Spanish and move to a third-world country to provide physical therapy assistance to those in need."
Ragan's advice for future students is to find internships. "I have had three internships, acquiring over 60 hours of observation in two outpatient settings and one inpatient hospital setting," she said. "Interning will not only help you decide if physical therapy is what you want to pursue, but it also helps you grow immensely as an individual in communicating with professionals and the experiences you will encounter. And if you don't end up liking it, the experience will still look great on college applications! It's really a win-win."
She also advises prospective students to find balance during the busy years of school. "There will be plenty of distractions on campus that can be very enticing, but it is important to maintain a healthy balance of fun and a fair amount of studying," she said. "It is very important to take good notes, GO TO CLASS, engage with your professors, and hit the books. If you do the work, you will be rewarded. If you don't, you won't get the results you want. University life is really very different from anything you've experienced before, both very fun and difficult at times, so do your best to have fun, study hard, and stay active in the Evansville community!"