Creative Writing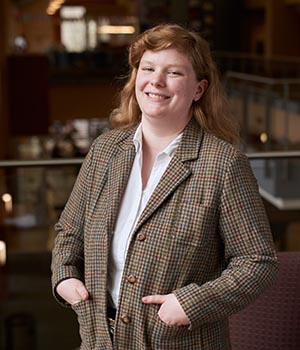 Class Year: 2022
Hometown: Brentwood, Tennessee
When asked why she chose to attend UE, Rebecca responded, "I was impressed by their study abroad program, as well as their art and creative writing departments." She gave high praise to Dr. Lisa Nikolidakis, associate professor of creative writing at the University. Upon meeting Dr. Nik, she immediately felt that she could make the campus her home. "Her office was all decorated with Halloween stuff in the middle of September." After seeing this and talking to Dr. Nik, Rebecca knew "this was a campus where I'd be able to meet other cool, weird people."
Rebecca gained professional experience as an intern with a New York Times best-selling author, which was valuable. "With the help of my professors and the career center, I get to choose the job I want."
In addition to her internship, Rebecca has participated in multiple clubs and classes she has really enjoyed. She is a member of Sigma Tau Delta, a nation-wide English honor society. For the club, Rebecca was selected to present her paper at an international conference in Atlanta, Georgia, which she describes as one of her proudest accomplishments at UE.
Rebecca also enjoys using the biology laboratories to practice taxidermy. She is glad that the campus community is close-knit, and she can ask a professor she has never met to open a lab for her to use outside of class time.
Rebecca has also been involved in multiple ChangeLabs, one working with Evansville's Big Brothers Big Sisters program, and another working to improve adult literacy in the Evansville area.
When asked about her favorite class at UE, Rebecca responded, "I can't pick just one! I love all my creative writing classes and professors!" She mentioned screenwriting with Dr. Nik, as well as the classes of other creative writing faculty such as Katie Mullins and Robert Griffith. She loved being able to experience writing across genres with each of her professors.
"I've wanted to be a writer ever since I was a kid," Rebecca said. "But everyone always told me, 'there's no money in it, get a real job.' When you're a humanities major, it feels like the world doesn't appreciate your work or find you necessary, but the faculty here does, and they'll do anything possible to help you succeed." 
Recognizing an Exceptional Student
Rebecca earned the following awards during LitFest 2022:
First Place Grabill Award for Nonfiction for "Hag Stories"
Third Place Grabill Award for Poetry for "Fetal Possum"
The Larry Caldwell Senior Award for departmental service and spirit