Bachelor of Science in Biology from James Madison University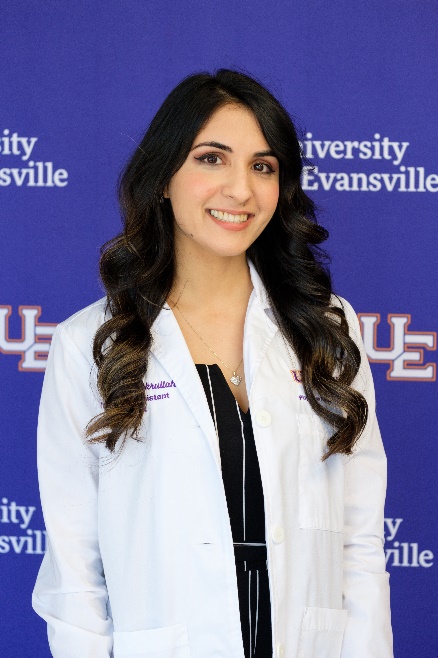 Hometown: Sterling, Virginia
What made you want to be a PA?
Growing up, I was always mesmerized by science and medicine, but it wasn't until my sophomore year in college when I was introduced to the physician assistant profession. Upon researching the career, I instantly fell in love with the role and responsibilities of a PA in the medical field. As a future PA, I love the flexibility and freedom I will have in exploring different specialties of medicine and the everlasting opportunities to keep learning and diversifying my knowledge of health and wellness.
Why UEPA? Or what makes UEPA different from other PA programs?
While applying to different PA programs, it was clear that UEPA was unique. Throughout my application process, I was constantly surprised by the quick and thoughtful communication by the UEPA faculty. Rather than merely being regarded as one of thousands of graduate applicants, they made the time and effort to get to know me and listen to my story. The sincere care and amiability of the UEPA faculty immediately made me feel welcomed and assured that the program is invested in my education. After beginning my career at UEPA, my vision of UE's culture has been further validated by the genuine support and involvement of the faculty in their students' lives. With the challenging nature of PA schools, I cherish being able to have these genuine student-faculty relationships. The University of Evansville is greater than a standard institution; it is a family where you grow and learn together.
What do you find is your biggest challenge in being a PA student?
My biggest challenge has been navigating PA school while also taking care of my health. Many PA students are used to working hard and achieving high grades as evident by the competitiveness of getting accepted into PA schools. However, unlike undergrad, where you had several exams a semester, during PA school there will be times where you have several exams in a week. For those that constantly aim for high scores, this can be extremely stressful, often turning into late nights and early mornings. Balancing between rest and work can be very challenging at times. It can be hard to stop focusing on your grade values, but it's more important that you value your efforts, persistence, and dedication. Your biggest focus should be on learning important skills. The rest will follow!
Did you do anything that really helped you prepare for PA school?
I applied to CASPA three times prior to getting accepted to UEPA. During my gap years, I worked as a medical assistant in various medical offices. Although each cycle of rejection was upsetting, looking back I am so grateful for all the experiences that I gained during those years. I recommend getting involved in hands-on experiences before PA school, so you can be familiar with some treatment methods and procedural techniques when you start! It also helps you build confidence, personal skills, and positive habits that will serve you well after PA school.
What is your best advice for anyone working on the CASPA application?
Start early! Even if you can't officially start your application, have a plan in mind and research different programs, so once the application does start, you can put your full attention on the application itself. Also, start working on your personal statement well ahead of the application deadline. That way, you can have enough time to get feedback and make adjustments until you feel confident with your submission.
If you could go back and give yourself one piece of advice, what would it be?
You know more than you think you know! I first heard this from my upper classmates, and it is true! A lot of times, before exams, I would be very anxious and feel like I don't know anything. But that's not the case! PA school is challenging, but the best part is that there are a lot of repetitions! Each semester of PA school prepares you for the next. At the end, you'll end up fitting all the pieces and everything will start to stick in!
What is the one thing about PA school you weren't prepared for?
I came to PA school knowing that it would be challenging, so there were no surprises for me! In fact, I thought I would be spending my entire day in class, but that's not the case! Most semesters we had classes that ended before noon, so we had plenty of time to study outside of class.
How hard is it…really???
The amount of information you will learn will be overwhelming! So, it is challenging! But, in contrast to undergrad where you may be taking random classes that you have little interest in, the classes in PA school are relevant and are made to prepare you for clinical rotations and beyond. I would say my experience in PA school has been difficult yet worthwhile and fulfilling. You'll be amazed at how much you will grow your knowledge each semester, and that has been a very rewarding feeling!
What is your favorite class?
My favorite class so far has been Anatomy. It is the fundamentals of medicine, and it really prepares you for the rest of your classes. Our anatomy class utilized the Anatomage table which has virtual cadaver models, and the best part is we also had access to it after the lab, so there is plenty of time to learn and get familiar with the human body!
What is a typical day like in didactic year?
A typical day varies by semester, but usually our class starts at 8-9 am with breaks in between classes to grab a snack or chat with classmates. We have had semesters where we ended classes by lunchtime, so we could go home and take a break. For the most part, our schedules are not condensed, so there is a lot of time to study outside of class.
What is your favorite part of PA School?
My favorite part of UEPA has been all the amazing activities and events that the UEPA program has planned for us. Some of my favorite memories are from our field day, student and faculty picnic, yoga, ice cream socials and tie dye after finals! The program really makes sure to plan activities to help students destress which really sets UEPA apart from other programs!
What is your best advice for the interview process?
You've probably heard this before, but just be yourself! The UEPA interview was the most fun and interactive interview I've had! The moment you start the interview, you realize that the faculty just want to know you better. Be genuine. Be you!
How do you balance school and other aspects of your life?
Balancing the demands of school, health, and life can be difficult, but it's important for your overall success and mental health! It's all about organization like keeping To-Do lists, daily time management, and setting priorities. Make goals for yourself, but if you need a break make sure to pause and ground yourself. Your health is the most important priority.