Public Health, Pre-Physician Assistant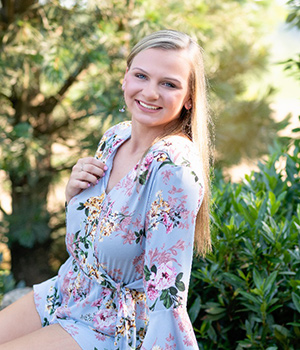 Class Year: 2023
Hometown: Jasper, Indiana
Why you chose UE?
I was drawn to UE for their Direct Entry Physician Assistant Program and the fact that the university was only an hour from my hometown. Following my first visit to UE, I knew immediately where I wanted to spend the next 4+ years of my life. The faculty and fellow students I encountered on my first visit were welcoming, helpful, and open to any questions my parents or I had. The small class sizes at UE also meant that I would be more than just a student; the professors would personally get to know me and I could come to them during office hours with any questions or concerns I had regarding their class.
I chose to major in Public Health because the content presented in the Public Health courses is relevant to not only my graduate school education but to my overall health and wellness. This major will successfully prepare me for UE's Physician Assistant program by presenting information about global health, statistics, and ways to improve public health. To top it off, the professors in the public health department are extremely welcoming and willing to answer any questions or concerns.
What is your favorite thing about UE?
My favorite thing about UE is the fact that there are so many activities to get involved in. From Greek Life to academic clubs to service opportunities, there are so many ways to meet new people and make memories to last a lifetime. Because I chose UE, I have been granted several opportunities that will prepare me for my future career and have also made friends that will last a lifetime. UE makes it possible to gain an education as well as get involved, two of the things that I am the most passionate about.