Nursing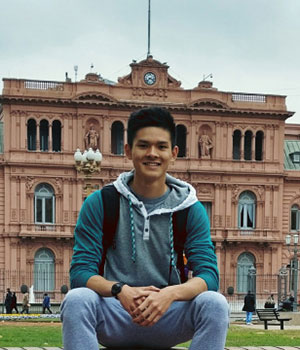 What has been your most rewarding experience abroad so far?
My most rewarding experience abroad was when I volunteered for a charity organization named CONIN to work with children living in the poorest areas of Buenos Aires. There I helped to organize donated articles and to look after the children in the daycare center. Together, we laughed, played, made musical instruments, sang, danced, and had a wonderful time. Overall, this is truly my most rewarding experience abroad simply because of how tired I felt at the end of the day and how proud I am knowing that I have contributed to a new community.
What has been your favorite part about your host culture?
It struck me awkwardly at first but as I immerse myself deeper into the Argentine culture I developed an enormous admiration for the intimacy of people in Argentina. For instance, Argentinian took greeting to the most close-up and personal level that I have ever seen before. Instead of a simple handshake, everyone there embraces a polite hug and kiss on the cheek regardless of genders or ages. In addition, Argentinian also embraces a good conversation while sharing a cup of mate with friends and even strangers to show signs of friendships. This is the intimacy that makes the Argentine culture so special.
What has been your favorite trip you've taken?
While in Argentina, I had the chance to travel to the province of Misiones to see the largest waterfalls system in the world. Being selected as one of the seven natural wonders of the world, the Iguazu Falls truly lives up to its title. It was absolutely astonishing to be able to get to the highest part of the falls and have a close-up look at the Garganta del Diablo or the Devil's Throat. From the top, there is nothing that can capture the sheer force and amount of water flowing down the fall. After admiring the falls from the top, we went down on a boat ride that took us straight into the waterfalls itself. This was the scariest and most exciting part of this trip. I felt as if I was drowning in adrenaline as tons of gallons of water storming on to the boat. Overall, my experience at the Iguazu Falls is something that I will remember as one of the most memorable and craziest moments of my life.
What will you miss the most when you leave?
Coming back from the concrete jungle of Buenos Aires to a quiet suburban area, I will definitely miss the hustling streets, the nightlife and mostly the people that I have met and shared my adventure with. It is hard to believe how close I have become with other students in the program and as well as with the locals in Argentina. We have gone through so much together that I would see them my brothers and sisters.
What has been most challenging living in your host country/culture?
During my stay in Argentina, I found that overcoming the language barrier is the most challenging especially when Buenos Aires is well-known for its unique Spanish accent. It was very different from the Spanish I was taught in regard to the pronunciations. As a result, my first few days were confusing as I had to transit away from what I am comfortable with and learn to adapt to the new culture. Our host-mom doesn't speak any English so that really forced me and my roommate to learn Spanish and speak it wherever possible. At the end, I felt my Spanish has improved a lot and as frustrating as it was, I want more challenges like this to push myself over the limits.
What is your best advice for a future study abroad student?
When you are abroad, don't be afraid to get out of your comfort zone and embarrass yourself during the process. Just go with the flow and it is perfectly fine if you make mistakes along the way. After all, failure is the mother of success.
Anything else you would like to tell us?
Being able to study abroad means so much to me. Not only have I learned a lot academically but also a lot about myself. Coming out of this trip, I know more about my likes and dislikes and what I am capable of. This is something I take a lot of pride in and so glad that I did it.