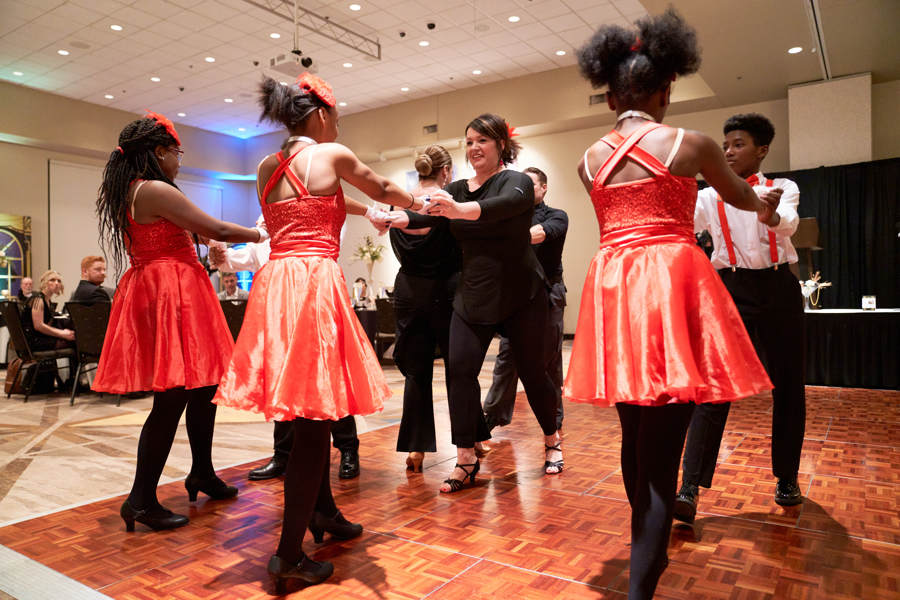 UE invites you to take part in the first-ever UE Dance Camp! This camp is made possible by generous funding from Lilly Endowment Inc. This day camp starts on June 22 and ends on June 25, and is now $200, with financial assistance available! Campers will have the opportunity to learn different styles of dance including ballroom, hip hop, modern and more! They will also learn the benefits of healthy movement and a healthy lifestyle. The camp culminates with a showcase on the last day at which the NEW Junior Aces Dance team will be selected.
Campers will receive: All dance lessons, camp t-shirt, performance opportunity, breakfast and lunch on campus, excellent exercise, mindfulness opportunities and more!
Dances learned: Modern, hip hop, ballroom, including swing, rumba, fox trot, waltz and more.
Schedule
Day 1: Wednesday, June 22, 2022
8:00 a.m. Check-In
9:00 a.m. Breakfast
Swing and Hip-Hop
5:00 p.m. pick-up
Day 2: Thursday, June 23, 2022
9:00 a.m. Breakfast
Tango & Modern
5:00 p.m. pick-up
Day 3: Friday, June 24, 2022
9:00 a.m. Breakfast
Waltz and Fox Trot
5:00 p.m. pick-up
Day 4: Saturday, June 25, 2022
Performance Day!
9:00 a.m. Breakfast
11:00 a.m. Show
12:00 p.m. Awards Luncheon
1:00 p.m. pick-up
Questions? Contact:
Erin Lewis
EL131@evansville.edu
Text: 812-449-1044
Office: 812-488-2455