Alumni Profile
Ben Menke
Austin, Texas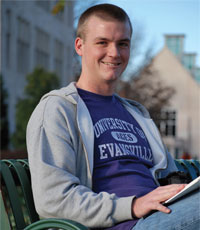 A passion for sports brought Ben Menke to UE's exercise science program. His classes and internships provided him with the skills to share his enthusiasm with others. "My course work has been challenging, yet it has given me what I need to accurately train others and assist them in improving their overall health and wellness."
Ben's internships have given him the opportunity to put what he has learned in class into practice. "At the Children's Museum of Evansville, I put together fun and interactive activities about basic nutrition and health. Working as a camp counselor, I planned activities for kids ages 6-13 and modified sports and games to age appropriate levels. My internship at the YMCA pertained the most to my major, as I developed an adaptive soccer program and worked as a personal trainer. I really enjoy looking at the science aspect of exercise."
Ben is spending a semester in Costa Rica before entering UE's Doctor of Physical Therapy program. "I've taken numerous Spanish classes, so I'm excited about immersing myself in the language and culture. As I think about the future, I'm considering how I can combine this experience with my degree to serve others — perhaps as a physical therapist in a bilingual environment."
Alumni Professionals
UE School of Health Sciences alumni are employed in a wide range of career fields. Below is a listing of alumni and their professional position.
MacKenzie Alsip
Athletic Training Graduate Assistant, University of Tennessee
Jenna (Hayes) Alspaugh
Senior Sales Professional, Eli Lilly
Ryan Barrett
Ticket Sales Executive Director, Indianapolis Indians
Tom Benson
Assistant Athletic Director and Producer - Purple Aces Productions, University of Evansville
Josh Bisher
Senior Program Director, Recreational Services, Ball State University
Devin Brennan
Environmental Health Specialist, Hendricks County Health Department, Indianapolis
Phil Broshears
MD, Deaconess Health System
Jamie Carroll
Professional baseball player
Wes Carroll
Head Baseball Coach, University of Evansville
Terry Collins
Associate Athletic Director for Sports Medicine, University of Evansville
Samantha Conrad
Assistant Soccer Coach, Ashford University
Hailey Craig
Physician Assistant (PA) Program, Indiana State University
Jessica (Reeder) Gibson
PA Program, University of Kentucky, Deaconess Health System
Laura Graybrick
Manager, Corporate Partnerships & Events, Indiana University Health
Liz Gregg, PhD
Assistant Professor of Sport Management, University of North Florida
Holly (Wimberg) Happe
PA Program, Indiana State University
Erik Hemenway
Athletic Trainer/PTA, Ohio State University Wexner Medical Center
Staci Hodges
Team Leader, The Heart Hospital Cardiac Rehab, Deaconess Health Systems
Olivia Kohrman
Clinical Trials Specialist for Duke Office of Clinical Research
Thomas Knox
Director of Player Performance and Rehabilitation, Washington Wizards, NBA
Joni Johnson
Head Athletic Trainer, Austin Peay State University
Kavon Lacy
Assistant Men's Basketball Coach, University of Evansville
Matthew Larson
Wellness Director, YMCA of Greater Indianapolis
Lisa Letterman
Lab Assistant at Vanderbilt University
Chris Lindeman
Executive Director, Hamilton Central YMCA, Great Miami Valley YMCA
Amanda McClain, PhD
Post-doctorate Fellowship, Public Health Department, Harvard University
Brooke (Robinson) Mickens
Ticket Office Manager, The Ford Center, Evansville, Indiana
Nicole Moyen
PhD student, Exercise Physiology, University of Arkansas
Craig Phifer
Director of Rehab Services, Orthopedic & Sport Medicine, Owensboro, Kentucky
Niki Rahming
University of Nevada-Las Vegas Dental School
Aaron Reis
Strength & Conditioning Coach, Kansas City Royals Minor League System
Shelbi Reynolds
Graduate Assistant Athletic Trainer, Western Michigan University
Skyler Richards
Head Athletic Trainer, Dallas FC Major League Professional Soccer
Adam Rogers
South Central Regional Manager, American Junior Golf Association
Christiana Schmidgdall, ATC
Assistant Athletic Trainer, University Athletic Association, University of Florida
Mark Sutherlin
PhD student, Kinesiology, University of Virginia
Zach Taylor
Practice Manager, Visiting Physicians Association of Greater Indianapolis
Dexter Wolf
Police Officer, City of Evansville
Office Phone
812-488-2848

Office Email
shs@evansville.edu

Office Location
Room 219, Wallace Graves Hall