UE Recognized for Affordability and Student Benefits on Several Top College Lists
Posted: Tuesday, September 26, 2017
The University of Evansville has been named to several top college lists, including rankings by Princeton Review, Forbes and Money. These commendations are in addition to those from U.S. News & World Report and Washington Monthly earlier this month.
Forbes magazine named UE to its Top College list again this year and named the University to its Grateful Grads list. The Forbes Top Colleges ranking focuses on direct benefits a college provides students. Student experience is an important criteria and is based on freshman-to-sophomore retention rate and data from Niche, a comprehensive ranking site.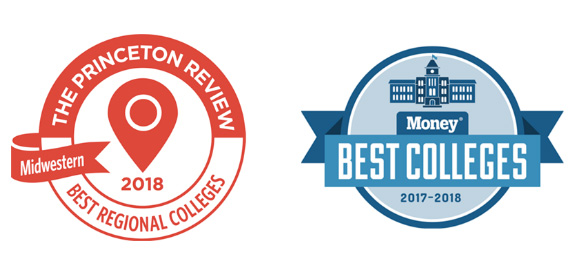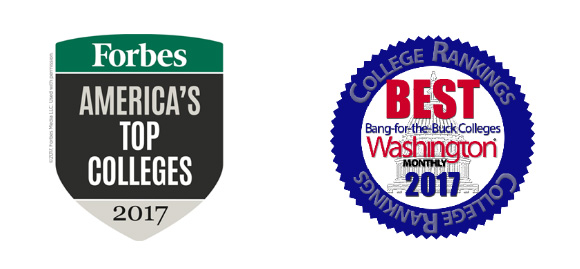 Niche uses survey information from approximately 93,000 current students and recent alumni reviewing over 1,300 colleges to rate schools and give them a letter grade. Overall, Niche named UE a Top Private University, a Best College in America, and a Best College in Indiana. UE was also rated by Niche as a College with Best Academics, Best Professors, and Best Value in America, and as a Most Diverse College and a College with the Best Student Life in America.
This year the Princeton Review listed UE as a Best Midwestern school in its Best Colleges: Region by Region category. Only 158 colleges were on this list of premier colleges. Schools chosen are considered "academically outstanding and well worth consideration." Rankings are based on what students attending the reviewed colleges say about their experiences at their institutions.
UE has been named a 2017/18-Best Colleges by Money. Money used research and advice from the nation's top experts on education quality, financing, and value to create a new and practical analysis of the nation's best-performing colleges. Schools were ranked in quality of education, affordability, and outcomes - including graduate earnings.
College Factual recently listed UE in eight awards categories, including: Best Nationwide Colleges, Best Indiana Colleges, and Best Nationwide Colleges for Your Money, ranking in the top ten percent of more than 1300 colleges and universities. College Factual compares the quality of education at a given college, compared to all others on the list. Factors include student body caliber, educational resources, degree completion, and post-graduation earnings.
Earlier this month, U.S. News and World Report named UE a Best Midwest Value in its annual Best Colleges rankings and as one of the Best Regional Universities: Midwest. Washington Monthly also ranked UE number 7 in the nation among Baccalaureate Colleges and a "Best Bang for the Buck" school.
UE President Thomas A. Kazee said the University was extremely pleased with the accolades from these ranking organizations.
"At UE we are committed to providing students with a high quality education that is affordable. These rankings make one thing crystal clear: UE is a terrific value."