UE's Mark Valenzuela Breaks World Record for Tallest Tower of Tortillas at UE ChangeFest 2018
Posted: Saturday, September 8, 2018
UE's Mark Valenzuela broke the world record for stacking the tallest tower of tortillas on Friday, September 7 during UE Changefest 2018. He not only broke the existing record of 68 centimeters, but went on to set a new record of 75 centimeters before his tower fell.
This was Mark's second attempt. In last year's attempt, his tower toppled just short of the world record.
"Mark exemplifies the characteristics of changemaking that UE stands for," said Jill Griffin, executive director for the Center for Innovation and Change at UE. "He had the courage to set a bold goal for a good cause and wasn't deterred by his initial failure."
ChangeFest is held annually to raise awareness for the positive change that Aces are making in the community and the world. This year's themed booths, salsa dancing lessons, record breaking tortilla tower, and more revolved around the theme to bring awareness for UE's upcoming Habitat for Humanity trip to Mexico.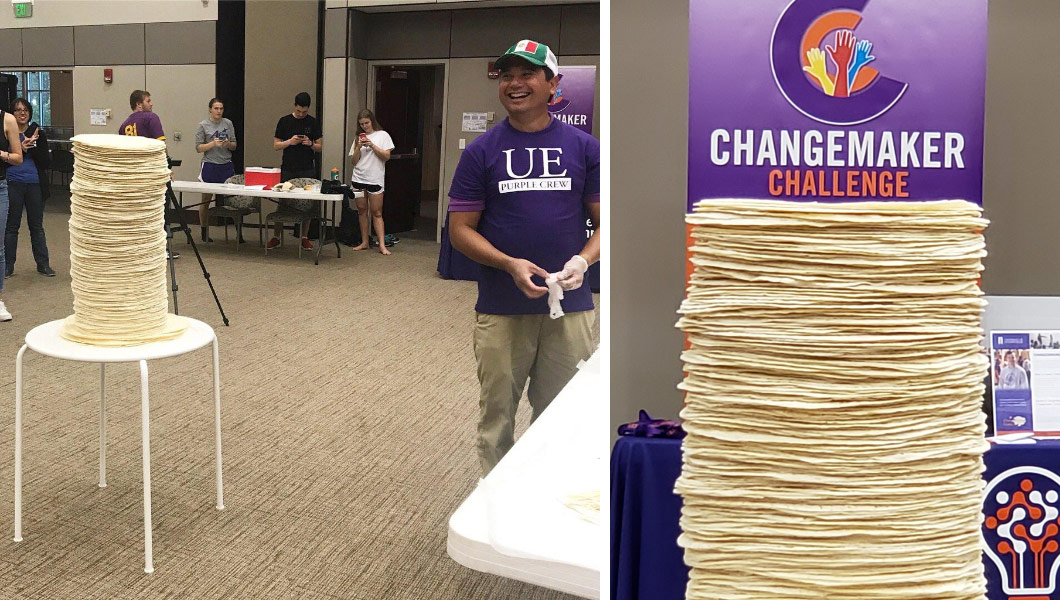 "People have been asking me, 'what does it feel like to hold a world record?'" "said Valenzuela. "It feels great, especially after the failed attempt last year. But really it all just started out as a way to bring attention to a Habitat for Humanity Global Village trip to Guatemala that happened in May 2018. And now we're off to Mexico in May 2019. If we get as good a group of students going in May as we had in Guatemala, then I would really feel a sense of accomplishment!"
Valenzuela is the associate vice president for academic affairs and is also teaching a ChangeLab course this semester in which students are exploring the use of tiny hones as a source of affordable housing. He recently moved into his current role after teaching in the mechanical and civil engineering department for 19 years.