UE Holds Ribbon Cutting for Ace CARE Transportation Van
Posted: Wednesday, September 8, 2021
On September 8, 2021, the University of Evansville held a ribbon-cutting ceremony for a new transportation van for the Ace CARE program. The event was held at 3:00 p.m. and included attendance from staff, faculty, alumni, and members of Evansville Regional Economic Partnership (E-REP).
Ace CARE (Community Action through Rehabilitation and Exercise) was founded 10 years ago by several students in the Doctor of Physical Therapy program at UE. The organization has three branches of service: Ace+ PT, an outpatient physical therapy clinic for the underinsured, uninsured, and those experiencing homelessness; ACErcise, which serves adults who have sustained a neurologic injury; and AceBuddies, geared toward children and young adults with special needs.
All Ace CARE services are completely student-run, held on campus, and offered at no cost to patients and participants. In previous years, those in need of Ace CARE services were responsible for their own transportation. For the vulnerable in the local community, however, finding transportation can many times be difficult or unreliable and can result in inconsistent service delivery.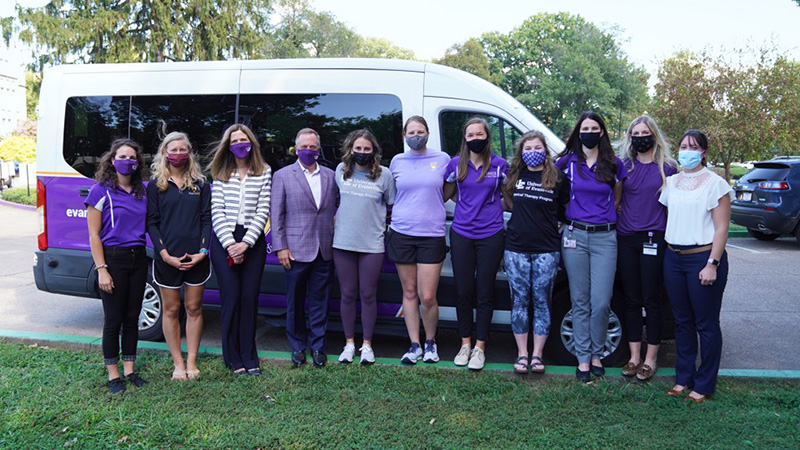 "I have had participants share with me the various obstacles they must work through to make it to our Ace CARE services," said Christin Donahoe, a Doctor of Physical Therapy student who serves with the program. "With this van, we can solve these problems and enthusiastically assure our patients that they are our priority. For many who may be experiencing an unstable season of life, this van opens doors – literally – and provides them reliability and stability."
Early in 2020, discussions were held regarding the need for a transportation van for the Ace CARE program. The idea was launched into reality by March, when University of Evansville parents Mike and Julie Mangan initiated fundraising efforts and provided lead gift money. The Mangans challenged others to support the cause, which prompted others to contribute. In total, 155 donors allowed UE to add the van to Ace CARE's services.
"This program was created because our students saw a gap in healthcare services for the vulnerable in our community," said Mary Kessler, who serves as dean of UE's College of Education and Health Sciences and oversees Ace CARE. "Ten years later, our students continue to address this growing need and give back to the community. Adding the van to our services is just another way we can help our participants achieve a better quality of life."
Ace CARE services have begun for the fall and will continue through the end of the semester. For more information, visit evansville.edu/pt or call 812-431-4832.
"I hope everyone will see that this van truly moves into all corners of our local community and tells those in need, 'you and your health are valued here,'" said Donahoe.