Details
Graduation Year: 2009
Majors:

Music Performance
Music Education

Current Employer: CTI Music Ministries
Job Title: Booking Coordinator
Contact Methods Available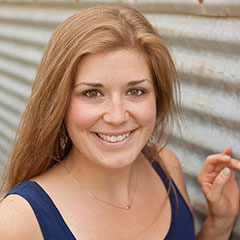 UE Experiences
A lot happens in four (or more) years of college. Between studies as a double music major, sorority life demands as a member of Alpha Omicron Pi, participation and leadership positions in many organizations (Sigma Alpha Iota music fraternity, Best Buddies, UE Leadership Academy, Ladies in Pink a cappella ensemble, Mortar Board, Student Development Fund, College Mentors for Kids, Women in Leadership, Acettes, I-Pals, National Society of Collegiate Scholars, Student-Alumni Ambassadors, Women's Awareness, Kappa Kappa Iota, Order of Omega, Rho Lambda, Senior Council, PIEE Partners in the Evansville Experience, Phi Eta Sigma, Student Activities Board, ISEA Indiana State Educators Association, MENC Music Educators National Conference, UEMTA UE Music Therapy Association, Crescent Newspaper, Phonathon Program), many volunteering organizations in the Evansville community, part-time jobs off campus and growing in relationship with numerous friends, college holds more experiences than I could ever talk about at once. All of them impacted my years at UE, some for the better, while some were hard learning and growing experiences. As a musician I took every opportunity to learn my craft, gain knowledge and skills as a music teacher and broaden my horizons in every area of music through many campus choirs, ensembles, opera involvement and music experiences. But I also didn't shy away from any and all opportunities for leadership development, service to others, career mentoring, physical activities, and challenging myself to try new things. I made sure to soak it all in and to not hold back, because it's over too quickly. Absolutely every single piece of my time at UE has shaped and molded who I am today. I am a stronger individual, a more successful leader, a confident employee and a dedicated member of my community because of all the avenues I pursued in college. I learned quickly to apply things I learned instead of just learning them and then letting them sit dormant. I acted on my new knowledge, I reached out to those I wanted to learn from and I continue as an alumna to push myself to be involved, to challenge myself and to give back.
Study Abroad Experiences
I studied abroad at Harlaxton College in the Spring semester of 2007. This was a transformative semester for my life and my career. Not only did it give me an incredible understanding and open mind about people of other cultures, religions and backgrounds, but it literally opened my eyes to the beauty of this world, but also the struggle, the pain and the hardship. It threw me into a new mindset and how I saw this world. It gave me a heart for those that are different from me because I have so much to learn. I could talk for hours about Harlaxton; the international studying, the traveling and the life in a great, historical manor house. Let's chat about this unforgettable experience that I would encourage every student to venture through!
Office Phone:
812-488-1083
Office Email:
career@evansville.edu
Office Location:
Room 234, Ridgway University Center