Details
Graduation Year: 2010
Majors:
Current Employer: Rowman & Littlefield Publishers
Job Title: Assistant Editor, Editorial Acquisitions
Contact Methods Available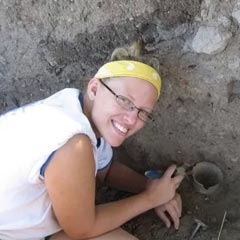 UE Experiences
A degree in archaeology is practical in many ways since students are taught necessary life skills of critical thinking, time management, and writing skills. Most of the people in my field have degrees in English or Creative Writing, and very few have any experience in the subject where they are acquiring books; I, however, have the opportunity to acquire books in my field (archaeology and anthropology) as well as learn more about other fields (communications and sociology) which allows me to stay on top of what is happening in academia AND learn new things.
Study Abroad Experiences
In the fall of 2007, I studied at Harlaxton. Most folks take "fluff" courses while there so they can fully enjoy the experience of being abroad. Aside from British Studies (accounting for 2 classes), I took Creative Writing and Intro to Women's Studies. Both were great choices since where better to start thinking about writing creatively than abroad in a centuries-old manor and being there afforded me the opportunity to learn of the women of the British suffragist movement. The classes and the professors (both from different schools) helped uniquely shape my experiences that semester that ultimately had me continue to earn a minor in Gender and Women's Studies as well as pursue a career in publishing. I also studied abroad summer 2008: I participated in the Mitrou Archaeological Project in Tragana, Greece, where I was a field school student. The experience was invaluable to my career as a student of archaeology; it is one thing to read about discoveries, but another thing completely to do the discovering. Knowing that what you're holding hasn't seen the light of day in thousands of years and that it could be the key to unlocking the mystery of the past… It's exhilarating!
Office Phone:
812-488-1083
Office Email:
career@evansville.edu
Office Location:
Room 234, Ridgway University Center