University of Evansville Opens Changemaker Incubator During November 15 Ribbon Cutting Ceremony
Posted: Wednesday, November 15, 2017
The University of Evansville unveiled its new Changemaker Incubator during a ribbon cutting ceremony today. In attendance were UE president Tom Kazee, UE students, and representatives from Hafer, an Evansville design and architecture firm that designed the space.
The Changemaker Incubator will accelerate the growth of social enterprise start-ups by providing space for social entrepreneurs to gather, exchange ideas, connect with mentors, collaborate with community partners, pitch ideas, and develop skills necessary to get their ideas off the ground. UE hosts annual Changemaker Challenges that empower young people to use innovation for positive change in the world.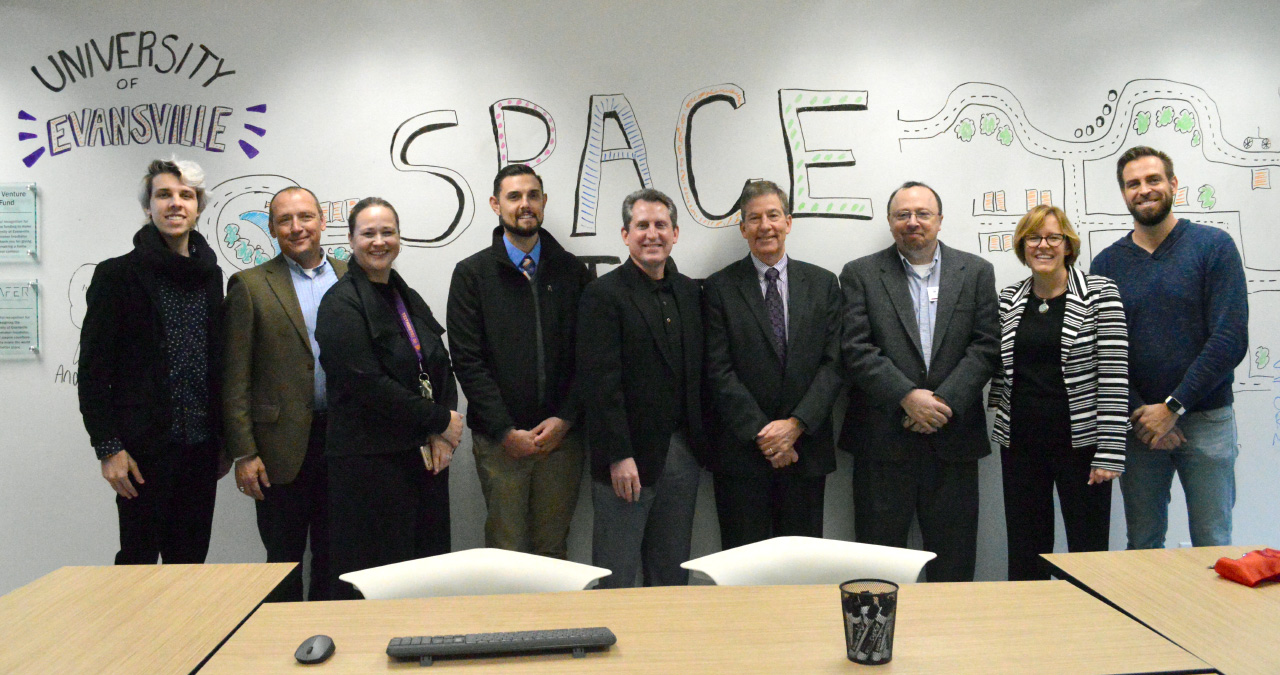 "Developing entrepreneurial ideas that make a difference in the world is something that resonates well with this generation of young people, and the impact they will make is profound. We are delighted about the possibilities this incubator space will provide for these Changemakers who are tackling important issues and offering fresh perspectives and innovative solutions," says Jill Griffin, executive director for the Institute of Global Enterprise.
The design for the Changemaker Incubator is a culmination of several brainstorming sessions between UE students, Hafer's design team and members of UE's facilities department. During the interactive design process, students stated their dreams and desires for the new space while Hafer listened and interactively translated their vision into a three-dimensional computer based design model. With a small space and limited budget, Hafer's designers were challenged to work with the students to make the most out of this project to ensure it was designed with creativity, thoughtfulness, and versatility in mind.
"At Hafer, we are grateful to be given the opportunity to work on such an important project. We absolutely enjoyed collaborating with the students to create a space where they can envision solutions to solve the problems of our community and the world," said Jack Faber, Principal / Architect + Designer
At Hafer. "It is in a creative, thoughtfully designed space, like the Changemaker Incubator, where students will come to solve problems and dream in ways we never imagined. For us, there is nothing more fulfilling than helping people make a difference."
The design promotes creativity and collaboration. Walls are covered with marker paint, allowing students' thoughts to endlessly flow throughout the space without the need to erase and start over. It is also equipped with the necessary technology to handle long-distance and virtual meetings. Furniture selection was a key component to the successful use of the space. It was specifically selected to allow for innovation to occur in a variety of comfortable settings. Tables can be brought together to create one large surface for group discussions. Or, the furniture may be separated to provide several breakout group arrangements. A cantilevered custom built marker board/divider wall was also created to completely divide the room into two separate spaces, which adds to the flexibility on-the-fly nature of the space. Students also have the choice of rolling chairs, eclectic bean bags and stools containing storage space inside. In the end, the Changemaker Incubator provides students a place to inspire innovation and encourages them to think far outside the box.
Funding for the space came in June of 2016 when UE's Institute for Global Enterprise received a $20,000 Ball Venture Fund award to build the Changemaker Incubator. The Ball Venture Fund, established by the Ball Brothers Foundation and administered by the Independent Colleges of Indiana (ICI), provides seed funding for innovative start-up programs at ICI member institutions. UE's grant was one of four selected out of 36 submissions that year.