News
Beavers Appointed to NSF Panel for the National Robotics Initiative
Posted: April 6, 2016
Anthony F. Beavers, professor of philosophy and director of the Cognitive Modeling Lab, was recently appointed to be a panelist for the National Science Foundation (NSF) program, the National Robotics Initiative (NRI), to evaluate proposals that address co-robotics issues at the interface with the social, behavioral, and economic sciences.
The panel will meet at the NSF Headquarters in Arlington, Virginia, on Monday, May 23. Beavers has been a three time reviewer for the National Endowment for the Humanities. This marks his first consultancy with the NSF
Slattery and Beavers Author Book Chapter on Ethics and Affective Computing
Posted: February 15, 2016
Anthony Beavers (professor of philosophy and director of the Cognitive Science Modeling Lab) and Justin Slattery (senior major in philosophy, creative writing, and English) completed their chapter, "On the Moral Implications and Restrictions Surrounding Affective Computing," for inclusion in Affective Sciences in Human Factors and Human-Computer Interaction, edited by Myounghoon Jeon and to be published by Elsevier.
Abstract: Building simulated affects into artifacts poses a moral dilemma. On the one hand, in order for humans to interact fully with machines, the machines need to meet them on human terms, and this requires machines that are capable of assessing human affective states and responding to them in kind. On the other hand, doing so amounts to a fundamental deception that humans will find it hard to keep in mind, namely that these machines do not actually have these affective states and may not, therefore, be worthy of our attachment and our moral regard. Yet, simulated affects, we argue, are necessary for creating machines that can make moral decisions, that affects are essential for disambiguating the utterances of machines and humans, and that not all forms of deception are bad. After an initial provocation, these arguments are taken up in order, after which we argue further that while simulated affects are necessary, they could nonetheless lead to abuse. Therefore, the standard ethical limits and principles involved with any technological innovation must be respected.
Crick Lecture in Cognitive Science and Neuroscience Today at 4:00 p.m.
Posted: February 12, 2016
Today at 4:00 p.m. in KC 100 Dr. Anthony Chemero (Philosophy and Psychology, University of Cincinnati) will present recent work on sensorimotor empathy. Dr. Chemero is a leading researcher in the field of embodied cognition. An abstract for the talk follows:

People with mirror-touch synaesthesia experiences touches on the bodies of other people. I will give an account of mirror-touch synaesthesia in terms of Wundt's original understanding of empathy (einfu?hlung), as a kind of "feeling into" works of art and the experiences of others. I will argue that feeling into is not limited to our experiences of works of art and other people, but also explains our close connection to our everyday environments. I will make a distinction between sensorimotor empathy and cognitive empathy. Cognitive empathy is familiar: it is the purposeful, explicit imagination of the thoughts and feelings of others. Sensorimotor empathy is implicit, sometimes unintentional, skillful coordination. While cognitive empathy is important for moral reasoning, sensorimotor is the foundation of social coordination, and the key to understanding mirror-touch synaesthesia. I will also explain how sensorimotor empathy can be operationalized and studied in the lab, in terms of interpersonal synergies.
Cognitive Science Professors Edit Collection of Artificial Intelligence Essays
Posted: March 6, 2015
The Journal of Theoretical and Experimental Artificial Intelligence just released a special issue edited by Cognitive Science and Philosophy professors Derek Jones and Anthony Beavers. The issue, "Inforgs and the Infosphere: Themes from Luciano Floridi's Philosophy of Artificial Intelligence," examines how open issues in the philosophy of information impact how we understand and approach problems in the field of artificial intelligence. For more information, see http://www.tandfonline.com/toc/teta20/27/1#.VNn12UJUMih.
"Can Plants and Bacteria Think?" to be Topic of UE Andiron Lecture
Posted: February 2, 2015
Can plants and bacteria think? University of Evansville assistant professor of philosophy Derek Jones will discuss this question at the UE Andiron Lecture on Wednesday, February 4. The lecture starts at 4:00 p.m., in Eykamp 252, Ridgway University Center. A social gathering with beverages begins at 3:45 p.m. The lecture is free and open to the public.
Jones earned an MA in philosophy from the University of Houston and a PhD in philosophy from Indiana University. He teaches courses in philosophy and cognitive science at UE and currently directs the cognitive science program. Jones has published and presented work on such topics as scientific explanation, self-knowledge, skilled behavior, and free will. His work is guided by the broader project of understanding cognition and action as essentially embodied, biological processes. His forthcoming book, The Biological Foundations of Agency, is slated for publication in January 2016.
For more information on the Andiron Lecture Series, please call 812-488-1070 or 812-488-2589.
Tom Polger to Deliver Crick Lecture on Wednesday, November 13
Posted: November 13, 2013
Tom Polger, a professor of philosophy at of the University of Cincinnati, will be delivering the Crick Lecture this Wednesday at 4:00 p.m. in Room 100, Koch Center. The lecture is jointly sponsored by the programs in Cognitive Science and Neuroscience. Polger is a leading researcher in the philosophy of mind and cognition.
The abstract for his talk, "Idealization and Identity in the Mind Sciences," follows:
"It is likely that creatures capable of some psychological states and processes have brains that are significantly different than human brains. Hilary Putnam famously argued, on this basis, that psychological processes and states are multiply realized - that is, that it is not possible to identify psychological processes with brain processes. Indeed, the phenomenon of multiple realization is central to the received view of the nature of mental states and the status of the cognitive and mind sciences. But in the last decade questions have been raised about the alleged ubiquity of multiple realization, and about the very coherence of the idea. Some of these critiques of multiple realization, however, make claims that are prima facie incompatible with the mind-brain identity theory. Thus the critique of multiple realization may achieve only a Pyrrhic victory. This talk explores these issues, and considers how the advocate of the mind-brain identity theory can resolve them."
CNS Research Group and Nu Rho Psi members Attend Neuroscience Conference
Posted: October 1, 2013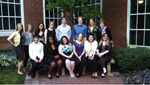 Fourteen members of the Cognitive Science and Neuroscience Research Group and Nu Rho Psi Honors Neuroscience Society attended the Midwest/Great Lakes Research Symposia (mGluRs) at Wabash College, Saturday, September 28. Morgan Brown presented Reserch Methods study. Marianne Marcotte, Kelsey Edens, Karolina Toth, Mariah Gardiner, Natasha James, Michael Bryan, Anna Maurer-Batjer, Rebecca Gervasio, Sarah O'Brein, Kasey Michel, Evan Meiman, Nick Morgan and Tyler Perry.
Jones and Beavers Edit Collection on the Philosophy of Information
Posted: September 24, 2013
Derek Jones, assistant professor of philosophy and director of Cognitive Science, and Anthony F. Beavers, Chair of the Department of Philosophy and Religion, just completed a special edited collection, Philosophy in the Age of Information: A Symposium on Luciano Floridi's The Philosophy of Information, for publication in the journal Minds and Machines. This special journal issue presents eight papers that raise critical objections to Dr. Floridi's recent book and features responses from the author himself.
Dr. Floridi of Oxford University visited UE last November for three days, during which he delivered three lectures, including our annual Ethics lecture, a Crick Lecture, and a special lecture on the design philosophy of Steve Jobs. Floridi also taught a special, three hour seminar session in the philosophy of information for one of our honors classes.
CNS Research Group Presents Dr. Lisa Kretz - Moral Philosophy, Emotion and Student Empowerment
Posted: September 17, 2013
On Thursday, September 19, at 6 pm in Room 75, Schroeder Family School of Business Building, Assistant Professor of Philosophy Lisa Kretz will discuss her recent paper, "Moral Philosophy, Emotion, and Student Empowerment".
Derek Jones to Join Board of IACAP
Posted: September 11, 2013
Derek Jones, Director of Cognitive Science and Assistant Professor of Philosophy, will join the executive board of the International Association for Computing and Philosophy this month as the organization's Membership and Promotions Coordinator. Dr. Jones was awarded the 2010 joint IACAP/Carnegie Mellon Goldberg Award for Outstanding Research in Computing and Philosophy by a Graduate Student for his work on animat modeling.
UE International Student, Cognitive Science Major Wins Scholarship Competition
Posted: April 25, 2013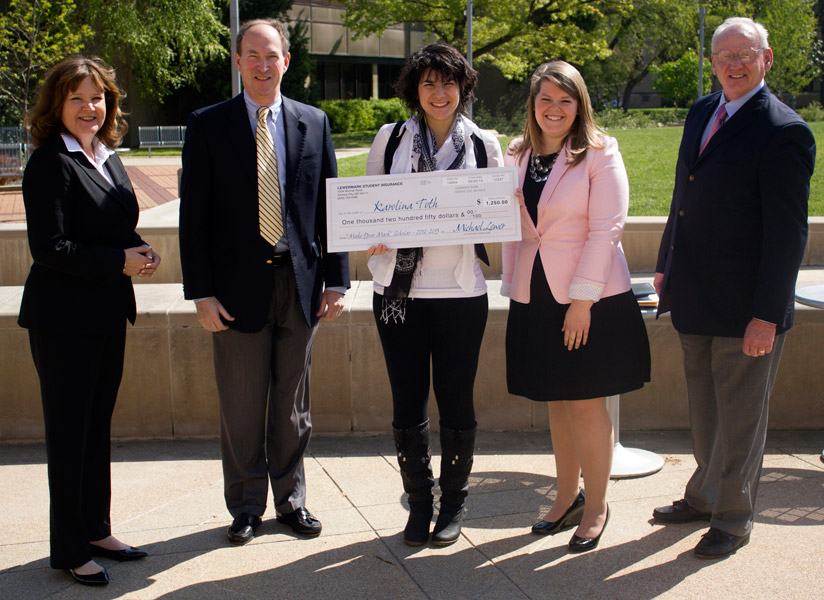 University of Evansville international student Karolina Toth, a cognitive science major from Budapest, Hungary, has won first prize in the LewerMark Student Insurance "Make Your Mark" scholarship competition.
The LewerMark agency, which provides health insurance programs for international students studying in the U.S., awarded Toth a $1,250 scholarship for her essay response to the question "How will an international education help me make a difference in the world?"
LewerMark representatives came to UE to present Toth's award this morning.
"When Karolina arrived to the University of Evansville in Fall 2010, her drive for success and achievement was very apparent," said Lauren Doss, UE's coordinator of cultural engagement, who nominated Toth for the scholarship. "In her time at our University, she has developed into a confident, mature, and capable leader in and outside the classroom."
"More than just a scholar," Doss continued, "Karolina excels at several co-curricular activities. She dedicates herself fully to all of her endeavors, and truly embodies a student who wants to change the world."
Toth's LewerMark scholarship essay reveals her desire to use her international education in her native Hungary. "All of us have heard the phrase 'You learn something new every day', but many of us forget that we also have the opportunity to teach something new every day," she wrote in the opening paragraph of her award-winning essay.
"My plan when I graduate from the University of Evansville is to get a PhD and aid my country to live up to its potential," she wrote. "Having lived abroad, I have acquainted myself with many individuals who think of Hungarians dearly. The Hungarian education system has fed many talented individuals to the world, but is in need of an update and new resources." She added that her desire is to "give back" to her country and to "assist in the reforming" of its education system, so that Hungary can be "equipped for the 21st century."
"My international education has opened my eyes to the world of opportunity that lies in front of every one of us and is now preparing me to take on my chosen path," she concluded. "I would have never dared to have such ambitious goals of educating and leading people, but my experience as an international student in America has shown me that I can reach as high as I am willing to work for. These experiences of my international education have led me to believe that I can make a difference."
Toth's winning essay is available online at http://www.lewermark.com/lewermark-scholarship/.
Anthony Beavers invited to speak at the International Conference for Affective Computing
Posted: April 16, 2013
Anthony Beavers (professor of Philosophy and director of Cognitive Science) was recently invited to speak on the topic of ethical challenges concerning affective computing over the the next ten years at the International Conference for Affective Computing and Intelligent Interaction to be held in Geneva, Switzerland this coming September. This invitation comprises the third for this fall on the topic of technology ethics, the second being an invitation to speak at the XXIII World Congress of Philosophy in Athens, Greece this August, and the third to speak at the the International Conference on the Philosophy of Information at Xian Jiaotong University, China, this October. The invitations follow from concerns over challenges to the climate of ethics arising from the impact of information and communications technologies on the global scene. Beavers was the recipient of the 2012 World Technology Award for Ethics presented this past October in New York City.
Derek Jones to Speak at Last CNS Meeting of Semester
Posted: April 16, 2013
For the final CNS meeting of the semester, Derek Jones, has been invited to speak about "Metabolic Agency: Or How Thinking About Fidgeting Got Me Excited About the Autonomic Nervous System". The meeting will be held Tuesday, April 16, at 6:00 p.m. in Hyde Hall 204. Bring your dinner and your friends, and be sure not to miss the final talk of the semester!
Luciano Floridi to Deliver UE's Crick and Ethics Lectures
Posted: November 6, 2012
Luciano Floridi, professor of philosophy at the University of Hertfordshire in England, will travel to Evansville this month to present two free, public lectures at the University of Evansville.
Floridi will deliver "The Varieties of Complexity," UE's Crick Lecture in the Cognitive and Neural Sciences, at 4 p.m. Monday, November 12 in Room 100 of the Koch Center for Engineering and Science.
For the annual Ethics Lecture, Floridi will present "Information Ethics and the Political Foundations of the Information Society" at 7 p.m. Tuesday, November 13 in Eykamp Hall, Ridgway University Center.
Floridi is a professor of philosophy at the University of Hertfordshire in Hatfield, England, where he holds the Research Chair in Philosophy of Information and the UNESCO Chair of Information and Computer Ethics, and a fellow of St. Cross College, University of Oxford.
Floridi is best known for his foundational research on the philosophy of information and information ethics, two new research areas that he has significantly helped to establish. He has published more than 150 articles in various anthologies and international peer-reviewed journals.
His most recent books are The Philosophy of Information (Oxford University Press, 2011), Information – A Very Short Introduction (Oxford University Press, 2010), and the Cambridge Handbook of Information and Computer Ethics (edited for Cambridge University Press, 2010).
Floridi is currently the principal investigator of the project "Understanding Information Quality Standards and their Challenges" (2011-2013), in collaboration with Google UK. He has delivered more than 200 talks, including recent public lectures at the World Science Festival in New York in 2010 and a TEDx in 2011, both available on YouTube. In 2012, he was a keynote speaker at the EU Digital Agenda, during which he addressed European Union leaders on education issues in the information society.
Floridi's lectures at the University of Evansville are sponsored by the Department of Philosophy and Religion, UE's programs in cognitive science and neuroscience, the College of Engineering and Computer Science, and the Kern Family Foundation.
Members of the media seeking more information may contact Kristen Lund, UE director of news services, at 812-488-2241.
Beavers Receives 2012 World Technology Award in Ethics
Posted: October 24, 2012
Anthony Beavers, professor of philosophy and director of cognitive science, was presented with the 2012 World Technology Award in Ethics this past Tuesday night at a special ceremony held at Rockefeller Plaza in New York City.
He was recognized for his work in moral theory, which attempts to show how and why existing ethical frameworks are insufficiently suited to the information age and why ethicists need to develop other alternatives. The World Technology Awards are presented in association with TIME, Fortune, CNN, Technology Review, and Science and go to the "peer-nominated, peer-elected most innovative people in science and technology" defined as those doing "the innovative work of the likely longest significance."
Thirty awards are offered each year, twenty to individuals and ten to corporations. Winners this year included SpaceX, the first private company to get a rocket to the space station and back, Ekso Bionics for successfully developing technology to allow paraplegics to walk on their own through the use of a robotic exoskeleton, and NASA Engineer Adam Steltzner of the Jet Propulsion Laboratory in Pasadena for his role in successfully landing the rover Curiosity on Mars this past August.
Among the more recognizable past recipients of World Technology Awards are Al Gore (for Policy), Linus Torvalds, developer of the Linux operating system (for Commerce / Communication Technology), Tim Berners-Lee, inventor of the World-Wide Web (for Communication Technology), Larry Page and Sergey Brin, founders of Google (for Marketing Communications), and Mark Zuckerberg, lead developer and co-founder of Facebook (also for Marketing Communications).
Beavers Nominated for World Technology Award in Ethics
Posted: October 11, 2012
Anthony Beavers, professor of philosophy and director of cognitive science, is one of five finalists nominated for the World Technology Award in Ethics to be presented at the World Technology Summit to be held at Rockefeller Plaza later this month. The awards are presented in association with TIME, Fortune, CNN, Technology Review, and Science and go to the "peer-nominated, peer-elected most innovative people in science and technology." For a complete list of nominees in all twenty categories, see http://wtn.net/summit2012/finalists.php.