Dunigan Nursing Simulation Laboratory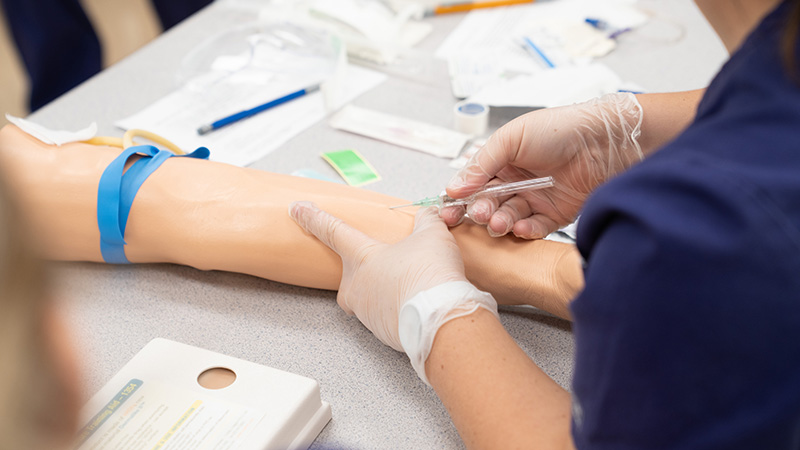 Meet the Sim Family
With an entire family of simulation manikins available in state-of-the-art nursing labs, UE nursing students have the opportunity to work with the most advanced technological equipment available in nursing education.
Located on the first floor of Wallace Graves Hall, the Dunigan Nursing and Simulation Laboratories provide students with two patient care areas that simulate hospital in-patient nursing units and a separate Simulation Lab. These well-equipped laboratories enable students to practice and perform basic nursing skills in a real-life environment.
Simulation Manikins
The Dunigan Simulation Laboratory is equipped with a family of state-of -the-art manikins and supervised by a dedicated Sim Lab Coordinator, Assistant Professor of Nursing, Joan Fedor-Bassemier. These high-fidelity patient manikins are programmed to exhibit a variety of symptoms related to specific illnesses and enables students to experience both common and unusual clinical situations. The simulated manikins are able to talk, breathe, lose or gain a heartbeat, along with many more simulated activities. Students are educated to assess the patient manikin and make critical, time-sensitive decisions about appropriate nursing care. Recorded simulations are also integrated in the program. Beginning with the second semester freshman year, every student completes at least three simulations each semester to evaluate his or her performance. Using technology and guidance by experienced faculty, students are able to learn and improve their skills in a safe, educational environment.
In 2008, the University of Evansville was among 10 universities presented with a distinguished research opportunity in a study conducted by the American Heart Association, Laerdal, and the National League for Nursing (NLN) to determine how pre-licensure RN students best retain CPR knowledge and skills. As a result of participating in the study, the University was able to keep Laerdal Resusci-AnneVAM® manikins, which are used to develop skills in basic life support and advanced cardiac life support.
Electronic Health Records with Simulation Software
Students are also able to interact with and document on an electronic health record (EHR) during simulation experiences. Students access their simulated patients' medical records via the Internet at home to prepare for their simulations and actually document the care they provide in the simulation lab during and after the simulation. Experiences in caring for patients in the simulation lab and interacting with a medical health record both in and out of the classroom better prepare students to meet the needs of their patients when they are in the clinical setting.