UE Nursing Graduates Achieve 100 Percent First-Time Pass Rate on NCLEX-RN
Posted: January 26, 2021
The class of 2020 graduates of the University of Evansville's Dunigan Family School of Nursing achieved a 100 percent first-time pass rate on the National Council Licensure Examination (NCLEX-RN). The national average for the first-time pass rate was 87.5 percent in 2020.
Senior-level nursing students were halfway through their final semester when the COVID-19 pandemic made its way to the United States. Despite the sudden change in learning formats and clinical rotations, the students adapted quickly.
"I was very impressed to see them maintain a resilient focus and push through adversity," said Jerrilee LaMar, PhD, RN, CNE, chair of the Dunigan Family School of Nursing. "While they didn't get to finish their studies in the classroom together or have a pinning ceremony, they did receive a high-quality education that prepared them for success." LaMar also recognized the compassionate faculty that were instrumental in helping students along the way.
The Dunigan Family School of Nursing incorporates several strategies into the program to prepare students for the NCLEX-RN. Several years ago, the faculty developed a review course for seniors. In the course, students take practice exams that identify strengths and weaknesses in specific areas. The faculty, who serve as mentors, help students write individualized study strategies that prepare them for the NCLEX exam.
To prepare students earlier on in the curriculum to think like a nurse, the faculty also developed a course to strengthen students' understanding of complex issues and decision-making to answer questions seen on the NCLEX exam. This course was piloted with the junior-level students, and the results were so successful that it became part of the required curriculum. Additionally, underclassmen are paired with a senior nursing student as an additional resource for help along the way.
"All of our 2020 graduates are now working as nurses in the healthcare field, and many of them are working with COVID-19 patients," said LaMar. "We are immensely proud to see them applying their skills and passion to help those struggling most during the pandemic."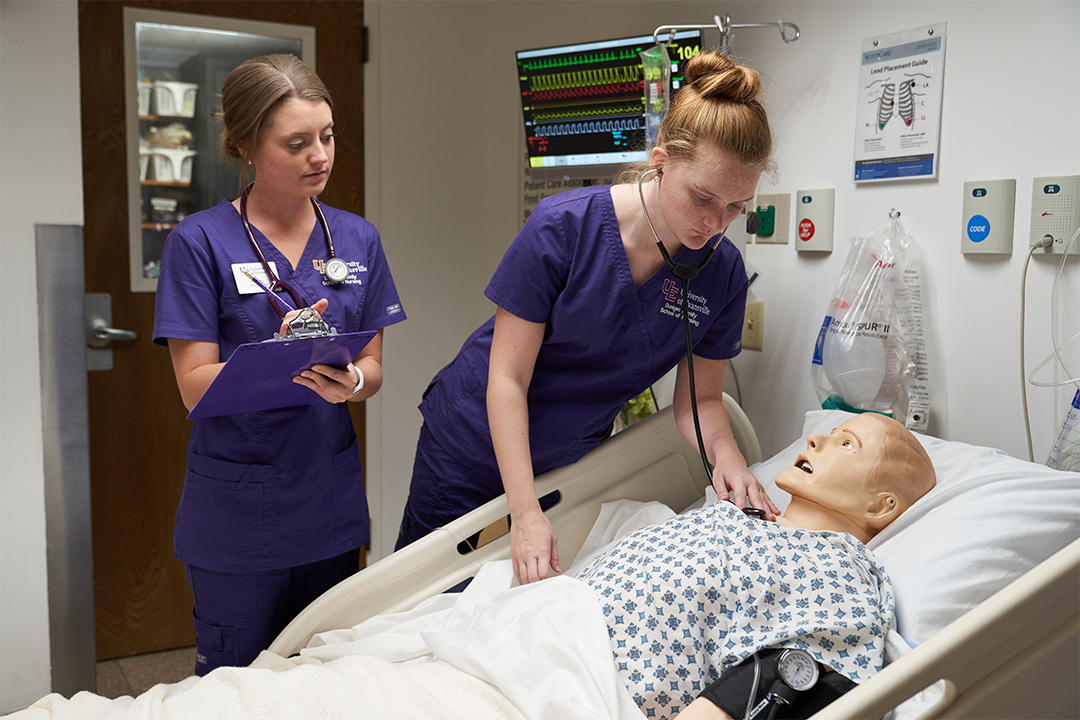 UE Health Sciences Programs Donate Equipment
Posted: March 25, 2020
The University of Evansville's Health Science programs have donated personal protection equipment (PPE) to support the efforts of healthcare workers during the coronavirus outbreak.
"Local hospitals, Ascension St. Vincent and Deaconess locations including Encompass Health, Gateway, and Midtown reached out to us to see if we had some extra equipment we could donate, and of course we responded as quickly as possible to share what we have to help keep those front-line healthcare workers safe," said Jerrilee LaMar, chair and White Family Endowed Professor of UE's Dunigan Family School of Nursing.
Departments that donated equipment include the School of Nursing, Physician Assistant Science, and the Doctor of Physical Therapy programs. Donated equipment includes six boxes of face masks, 100 isolation gowns, more than 100 boxes of exam and surgical gloves.
These items are typically used by University of Evansville's health science students as they learn and practice skills in laboratories like the Dunigan Family Nursing Lab on UE's campus or the Stone Family Center for Health Sciences in downtown Evansville. During their course of study, students engage in real-life simulations and use actual healthcare equipment. Like other institutions, the University's in-person classes have been cancelled for the remainder of the spring semester, although students are still actively engaged in online coursework. This donation allows our health education programs the opportunity to assist their community partners in their time of need.
"We are proud to partner with our local hospitals to give our health science students high level experience in their respective fields," said Mary Kessler, dean of UE's College of Education and Health Sciences. "In times of need, we are honored to be able to help their efforts in any way we can."
Publication Featured in The Nurse Practitioner for Dr. Angie Wooton
Posted: January 30, 2020
Dr. Angie Wooton and coauthor, Lynne Melchior, Diabetes Educator have just published an article, Diabetes-associated cardiac autonomic neuropathy or CAN featured in The Nurse Practitioner. 45(2):24-31, February 2020. Cardiac autonomic neuropathy (CAN) is an under diagnosed cardiovascular complication associated with diabetes. This is the third publication in a series focused on diabetic neuropathy.