Nursing Students Make Donation to Dream Center
Posted: January 24, 2022
Senior-level students in the University of Evansville Dunigan Family School of Nursing recently made a donation to Dream Center Evansville. Funds were raised during the fall semester, and the $1,400 check was presented on January 12, 2022.
The donation was made possible through a scrub jacket sale offered to Nursing students, as well as the generous support of locally- based Kim's Scrub Connection. Owner Kim Tenhumberg and her husband, Keith, donated several jackets to the sale in honor of her mother-in-law, Delores Tenhumberg.
"We chose to donate to Dream Center because it is a local, faith-based organization that strives to teach children how to be self-sufficient, serve those around them, and live a healthy life," said Rachel Jones, a senior Nursing student and representative for her class. "The goal for our senior project was to promote healthy living and decrease the rate of childhood obesity in the local community. We partnered with Dream Center to make this possible, because they support these initiatives through education and empowerment."
In addition to the monetary donation, the students provided healthy snacks and educational materials for Dream Center's after-school program. Jones and other students in her group also volunteered for a few days with the organization by leading activities, teaching children the importance of a healthy diet and exercise.
"I didn't know much about Dream Center's mission and operations before volunteering, but I'm so glad I had the opportunity to visit," said Jones. "I quickly learned just how much they do to shape the youth of our community."
Dream Center Evansville is a collective impact backbone organization dedicated to helping every child in Jacobsville win by curating the neighborhood's cradle-to-career continuum.
Jeremy Evans, executive director of Dream Center Evansville, was pleased with the partnership. "By exposing our next generation of healthcare providers to the challenges facing families in poverty," he said, "we help to ensure equitable treatment and cast a light on the real difficulties people in poverty face every day."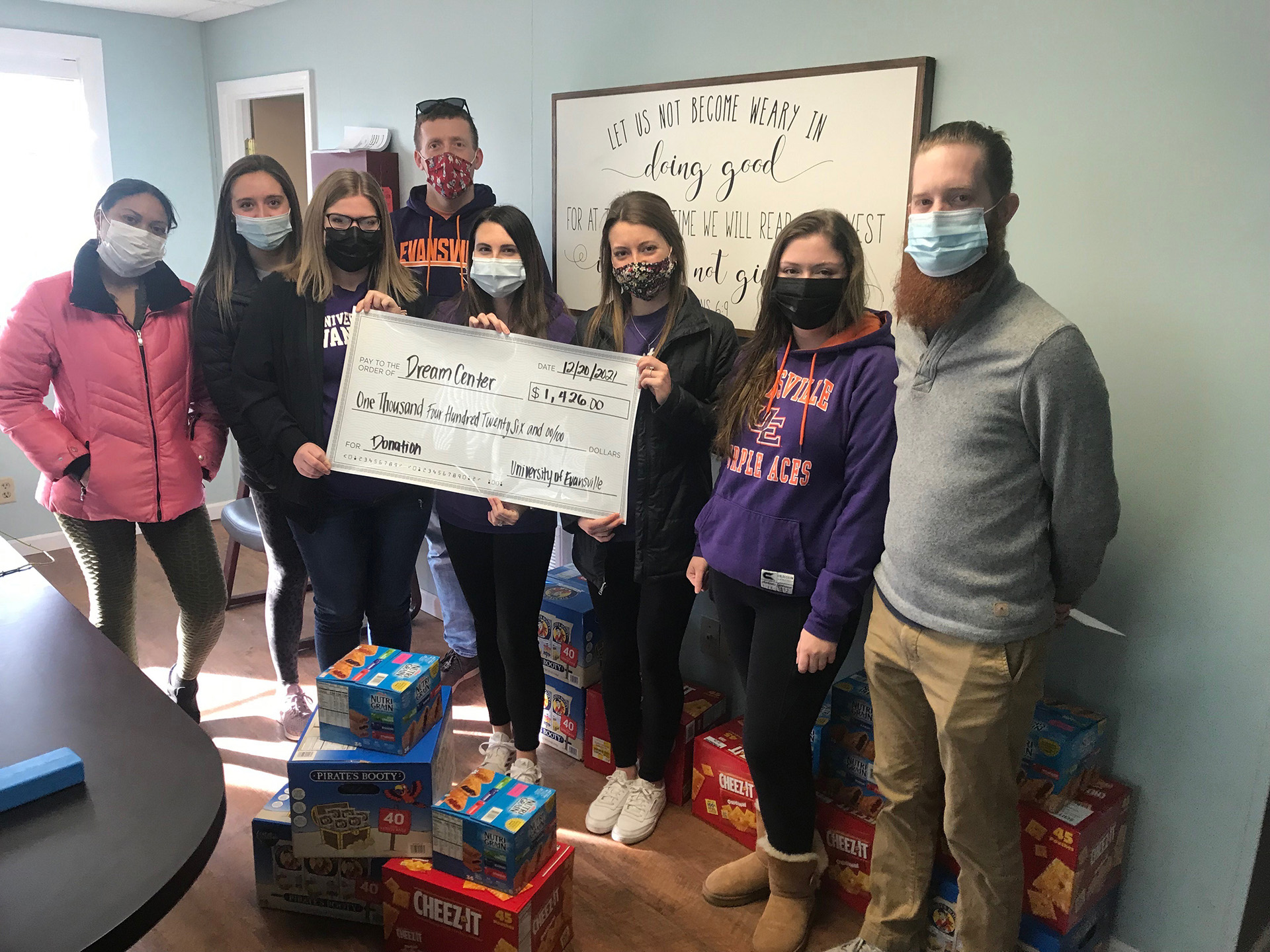 UE Receives $3.6 Million Gift for Lucy Kelly Nursing Scholarship
Posted: October 19, 2021
The University of Evansville (UE) has been provided a $3.6 million gift from the John B. and Lucille S. Kelly Trust. The funds will support and grow the Lucy Kelly Nursing Scholarship, which assists Dunigan Family School of Nursing students who demonstrate financial need and strong academic abilities.
After her marriage to Dr. John B. Kelly, Lucy relocated from St. Louis to Evansville. At age 42 she decided to enroll at UE for a nursing degree. In 1970, she graduated at 46. Looking back on her time at the University, she considered her four years of studies some of the most fulfilling and happiest of her life. Lucy worked as a nurse at Welborn Baptist Hospital for many years, while her husband was a urologist for Welborn Clinic. She eventually moved to a retirement community in Sun City, Arizona, where she lived until her passing at the age of 97.
"We are tremendously grateful for the Kellys' generosity and foresight in developing a philanthropic plan that will both make the UE Nursing degree more accessible to students and expand the pipeline of professionals in this critical need field," said Abigail Werling, vice president for university advancement at UE. "Mrs. Kelly was very proud of her UE degree, and today, we are proud of the Kellys' decision to invest in the University of Evansville's future with such a beautiful gift of scholarship."
Concerned about the nursing shortage and accessibility to education, Lucy established the Lucy Kelly Nursing Scholarship at UE. It was her hope that students in need could pursue their passion for nursing and join the field after graduation. Applicants for the scholarship must be in the top twenty percent of their class and hold a B grade average.
UE was the first institution in the state of Indiana to receive accreditation for a Bachelor of Science in Nursing (BSN) program. Now celebrating over 60 years of continuous accreditation, the program offers a scientific and creative learning environment in which students work closely with talented, experienced faculty. UE offers direct entry into the program for eligible freshmen, meaning those who meet required standards are guaranteed a spot in the program once they deposit. Direct entry students also receive a nursing scholarship valued at $20,000 per year.
"Nursing careers, especially in the tri-state region, are currently in high demand," said Jerrilee Lamar, PhD, RN, CNE, the Dunigan Family School of Nursing chair. "We are incredibly grateful for this generous gift from the John B. and Lucille S. Kelly Trust, which will support nursing students for years to come."
Students interested in pursuing a nursing degree can apply for free at evansville.edu/apply.
UE Nursing Graduates Achieve 100 Percent First-Time Pass Rate on NCLEX-RN
Posted: January 26, 2021
The class of 2020 graduates of the University of Evansville's Dunigan Family School of Nursing achieved a 100 percent first-time pass rate on the National Council Licensure Examination (NCLEX-RN). The national average for the first-time pass rate was 87.5 percent in 2020.
Senior-level nursing students were halfway through their final semester when the COVID-19 pandemic made its way to the United States. Despite the sudden change in learning formats and clinical rotations, the students adapted quickly.
"I was very impressed to see them maintain a resilient focus and push through adversity," said Jerrilee LaMar, PhD, RN, CNE, chair of the Dunigan Family School of Nursing. "While they didn't get to finish their studies in the classroom together or have a pinning ceremony, they did receive a high-quality education that prepared them for success." LaMar also recognized the compassionate faculty that were instrumental in helping students along the way.
The Dunigan Family School of Nursing incorporates several strategies into the program to prepare students for the NCLEX-RN. Several years ago, the faculty developed a review course for seniors. In the course, students take practice exams that identify strengths and weaknesses in specific areas. The faculty, who serve as mentors, help students write individualized study strategies that prepare them for the NCLEX exam.
To prepare students earlier on in the curriculum to think like a nurse, the faculty also developed a course to strengthen students' understanding of complex issues and decision-making to answer questions seen on the NCLEX exam. This course was piloted with the junior-level students, and the results were so successful that it became part of the required curriculum. Additionally, underclassmen are paired with a senior nursing student as an additional resource for help along the way.
"All of our 2020 graduates are now working as nurses in the healthcare field, and many of them are working with COVID-19 patients," said LaMar. "We are immensely proud to see them applying their skills and passion to help those struggling most during the pandemic."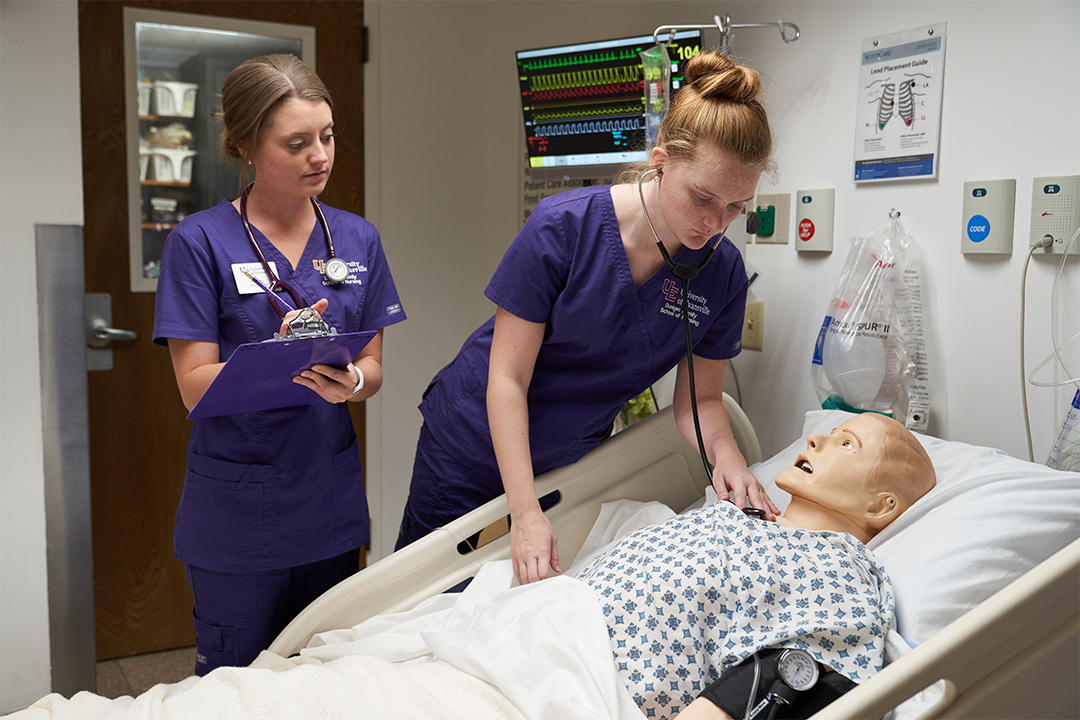 UE Health Sciences Programs Donate Equipment
Posted: March 25, 2020
The University of Evansville's Health Science programs have donated personal protection equipment (PPE) to support the efforts of healthcare workers during the coronavirus outbreak.
"Local hospitals, Ascension St. Vincent and Deaconess locations including Encompass Health, Gateway, and Midtown reached out to us to see if we had some extra equipment we could donate, and of course we responded as quickly as possible to share what we have to help keep those front-line healthcare workers safe," said Jerrilee LaMar, chair and White Family Endowed Professor of UE's Dunigan Family School of Nursing.
Departments that donated equipment include the School of Nursing, Physician Assistant Science, and the Doctor of Physical Therapy programs. Donated equipment includes six boxes of face masks, 100 isolation gowns, more than 100 boxes of exam and surgical gloves.
These items are typically used by University of Evansville's health science students as they learn and practice skills in laboratories like the Dunigan Family Nursing Lab on UE's campus or the Stone Family Center for Health Sciences in downtown Evansville. During their course of study, students engage in real-life simulations and use actual healthcare equipment. Like other institutions, the University's in-person classes have been cancelled for the remainder of the spring semester, although students are still actively engaged in online coursework. This donation allows our health education programs the opportunity to assist their community partners in their time of need.
"We are proud to partner with our local hospitals to give our health science students high level experience in their respective fields," said Mary Kessler, dean of UE's College of Education and Health Sciences. "In times of need, we are honored to be able to help their efforts in any way we can."
Publication Featured in The Nurse Practitioner for Dr. Angie Wooton
Posted: January 30, 2020
Dr. Angie Wooton and coauthor, Lynne Melchior, Diabetes Educator have just published an article, Diabetes-associated cardiac autonomic neuropathy or CAN featured in The Nurse Practitioner. 45(2):24-31, February 2020. Cardiac autonomic neuropathy (CAN) is an under diagnosed cardiovascular complication associated with diabetes. This is the third publication in a series focused on diabetic neuropathy.