Introduction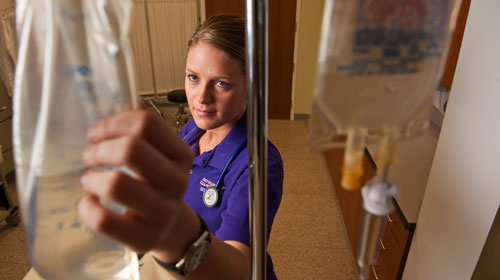 Scientific Minds and Compassionate Hearts
UE was the first BSN accredited program in the state of Indiana. We are celebrating over 60 years of continuous accreditation of our nursing program.
UE's School of Nursing offers the following:
Direct entry freshman year eligible students are guaranteed a spot once they deposit.
Accepted nursing students who meet the requirements for direct entry are eligible for a Nursing scholarship. Value starting at $25,000/year.
Simulations freshman through senior year.
Six semesters of clinical experience at local facilities.
Study abroad at Harlaxton and still graduate in four years.
Division I athletics–Be a nursing student and an athlete.
Personalized learning with small class sizes.
Transfer Students

Transfer students are eligible for direct entry to the program and receive scholarship awards.
Clinical experiences begin in the sophomore year and continue throughout the program providing students with additional learning opportunities for hands on patient care and leadership.
Transfer students may participate in the Harlaxton study abroad experience.

Second Degree Students

Students entering Fall 2022 and after who are pursuing a bachelor's degree in nursing as a second degree and are enrolled full time are eligible for a UE Nursing Scholarship of $25,000/year. No separate application is required as all second degree nursing majors will be considered for this scholarship through the application for admission.
94%
completion rate (2022)
91.3%
ultimate pass rate (2020-2022)
100%
first-time pass rate for licensure examination (2022)
100%
of graduates are employed within 6 months of graduation
$77,600
median annual salary
(BLS, 2023)
6%
projected job growth through 2031 (BLS, 2023)
Study Abroad
UE nursing students have many opportunities to gain global perspectives on nursing practice and health care. While at UE, the majority of nursing students study abroad. Students may study at Harlaxton College, UE's living learning center in Grantham, England, during the fall semester of their senior year and still graduate on time. Summer study abroad nursing courses are offered on a rotating basis. Opportunities may include studying abroad in China and inter-professional learning projects. Recent learning opportunities have included travel to England, China, Dominican Republic, Jamaica, and Guatemala.
Accreditation
The baccalaureate nursing program at the University of Evansville located in Evansville, Indiana is accredited by the: Accreditation Commission for Education in Nursing (ACEN)
3390 Peachtree Road NE, Suite 1400 Atlanta, GA 30326
(404) 975-5000
The most recent accreditation decision made by the ACEN Board of Commissioners for the baccalaureate nursing program is Continuing Accreditation. View the public information disclosed by the ACEN regarding this program.