UE Students Perform with Jazz Legend Doc Severinsen In Front of Packed House
Posted: Wednesday, April 5, 2017
"Before I begin, let me ask the ladies…how do you like the outfit?"
Donning a bright pink suit true to his signature style, former leader of The Tonight Show Band Doc Severinsen took the stage with students in the University of Evansville Jazz Ensemble I to play to a packed Victory Theatre Tuesday night.
The event was part of UE's Patricia H. Snyder Concert and Lecture Series, which brings renowned acts or speakers to Evansville at no cost to the public.
Selections included Max Anderson's September Song, Hoagy Carmichael's Georgia, a big band arrangement of Soundgarden's Black Hole Sun, and a Tonight Show Band's rendition of a Count Basie favorite, 12 O'clock Jump.
After a difficult arrangement of A Night in Tunisia, Severinsen motioned toward the ensemble and asked for applause for the "brilliant work from all the folks in the back."
"The students should be given a lot of credit," said Timothy Zifer, UE professor and band leader for the jazz ensemble. I am fortunate to have such good, dedicated young people in the band."
There are six freshmen, nine sophomores, and three seniors in the UE Jazz Ensemble I.
"Playing with Doc was an absolute dream come true," said Griffin Honeycutt, saxophone player and music education major. "I'm still in shock that I got to play and even solo with such a living legend in the jazz world. It's a performance that I will never forget."
This wasn't the first time the jazz legend has played in Evansville. In 1945, Severinsen played at Club Trocadero, a recollection that sparked grand applause from the audience. He was also involved in promotions for Sterling Beer—what he called the "worst beer ever invented!"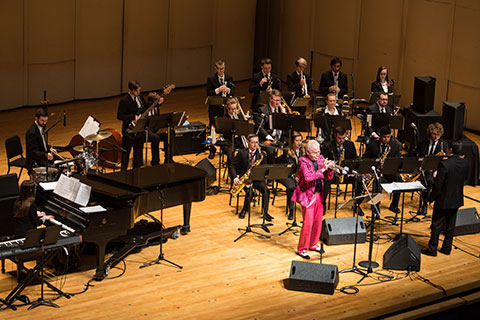 As part of the Patricia H. Snyder Concert and Lecture Series, jazz legend Doc Severinsen and the UE Jazz Ensemble played to a packed Victory Theatre on Tuesday, April 4.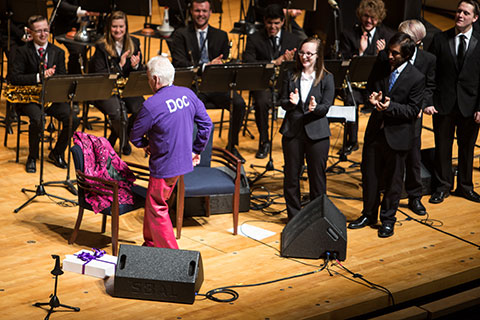 Doc exchanged his vibrant pink jacket for a bedazzled purple shirt, a gift from the trumpet section of the UE Jazz Ensemble.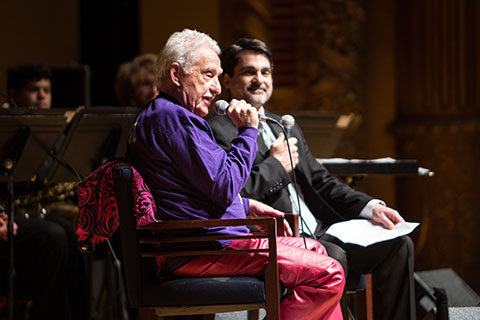 Following the concert, Doc Severinsen answered questions from the audience, moderated by Tim Zifer, director of the UE Jazz Ensemble I. "Doc said during his interview that if you work really hard you can make your dreams come true. Well... mine did! I never thought when I saw Doc perform live 33 years ago in Portland, Oregon, that I would one day get to host him with the band I direct."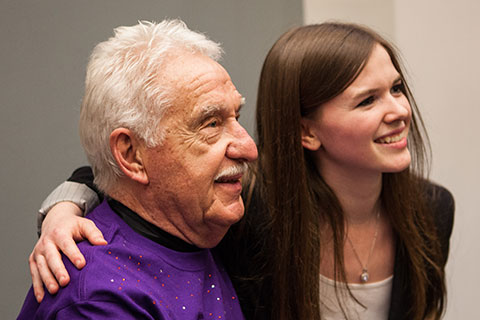 Doc Severinsen poses with Melanie Baker, pianist in the UE Jazz Ensemble I, during his CD signing following the event. Melanie was one of 18 UE students who performed with the jazz legend. "Doc Severinsen is a showman, comedian, good person and above all, an inspiration. He told us during the show that he believes hope, dreams and the desire to play are the key to a long and fulfilling life as a musician."