UE Constitution Day Program Set for September 15
Posted: Tuesday, September 12, 2017
Karen Hall, assistant professor of law at Ohio Northern University, will be the speaker at the University of Evansville's Constitution Day lecture on Friday, September 15. She will be discussing "The Constitution and the Rule of Law in America."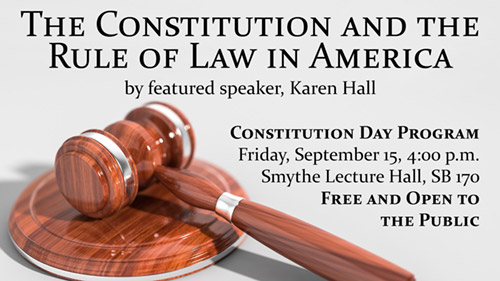 The lecture will begin at 4:00 p.m. in Smythe Lecture Hall (Room 170) in the Schroeder School of Business Building. Admission to the lecture, which is part of UE's annual observance of Constitution Day, is free and open to the public.
Hall is the director of the program for Democratic Governance and the Rule of Law at Pettit College of Law at Ohio Northern University.
She has a remarkable resume that includes spending 10 years working for the US State Department, including several years living in the US Embassy in Kabul, Afghanistan, where she managed State Department assistance to the Afghan criminal justice system. This included developing programs dealing with institutional development, access to justice, protection of women's rights, and legal education.
Hall earned multiple meritorious and superior honor awards from the State Department for her work.
She earned her law degree from Harvard Law School, her master's in security studies from Georgetown School of Foreign Service, and her bachelor's degree in Russian from Brigham Young University.