Article Detail
UE partners with Toyota Indiana to support Logistics and Supply Chain Management Program and Changemaker Challenge
Posted: Thursday, January 4, 2018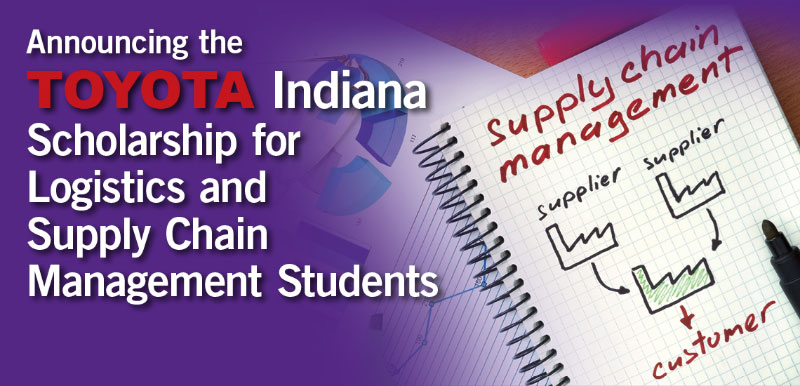 The University of Evansville has received a generous gift of $100,000 from Toyota Motor Manufacturing, Indiana. The majority of the gift –$90,000—will be used to launch the University's new Logistics and Supply Chain Management (LSCM) Program. The remainder of the funds will continue Toyota's long-standing support of the University's annual Changemaker Challenge competitions for area high school students and UE students.
"We are proud to partner with the University of Evansville on this milestone," said plant vice president Tim Hollander. "This program will help to fill a need for trained and qualified candidates for many employers in our region and create opportunities for students to build careers with longevity."
UE's new Logistics and Supply Chain Management (LSCM) Program will be introduced in the fall of 2018. The University's Schroeder Family School of Business Administration will be the first private University in Indiana accredited by the Association to Advance Collegiate Schools of Business (AACSB) International to offer an undergraduate major in logistics and supply chain management.
New college graduates in the supply chain management field are highly sought after with a 6:1 demand-to-supply ratio. UE's program will prepare students with knowledge and skills desired by employers. In addition to a rigorous course of study, students in the program will take part in high level experiential learning opportunities such as internships.
"Toyota Motor Manufacturing of Indiana is a world-class manufacturer and a great corporate partner," said Greg Rawski, Schroeder Family Dean at UE. "We are excited to launch this distinctive LSCM program, which provides students great placement opportunities and rewarding careers."
Part of the Toyota gift designated for the LSCM program will fund ten $5,000 scholarships. These one-year scholarships will be awarded to each of the 10 students in the cohort that will begin the program.
In 2018 U.S. News & World Report ranked the Schroeder School of Business #4 among small private schools and among all business schools Schroeder was the fastest riser (+38 places) to #183 overall. Schroeder average starting salaries are now at $50,500.

Scroll to the top of the page