Kazees Honored with Sagamore of the Wabash Awards and Indiana Senate Concurrent Session Resolution
Posted: Tuesday, February 27, 2018
On February 26, University of Evansville President Thomas A. Kazee and his wife, Sharon Kazee, PhD, were recognized for their years of service as UE's 23rd President and First Lady. The Kazees were each presented with individual Sagamore of the Wabash Awards from Indiana Governor Eric Holcomb and were recognized with an Indiana Senate Concurrent Session Resolution.
According to the State of Indiana's website, "the Sagamore of the Wabash Award is the highest honor which the Governor of Indiana bestows. It is a personal tribute usually given to those who have rendered a distinguished service to the state or to the governor. Among those who have received Sagamores have been astronauts, presidents, ambassadors, artists, musicians, politicians, and ordinary citizens who have contributed greatly to our Hoosier heritage."
Senator Vaneta Becker presented the Sagamore of the Wabash Awards to the Kazees on behalf of Governor Holcomb during a special reception.
Earlier in the day, the Kazees were honored with an Indiana Senate Concurrent Session Resolution. Following a long list of major accomplishments, the resolution concluded that the "Indiana General Assembly honors Dr. Thomas Kazee and Dr. Sharon Kazee upon their retirements as President and First Lady of the University of Evansville and thanks them for their years of service and dedication to the University of Evansville, the Southwest Indiana Community, and the State."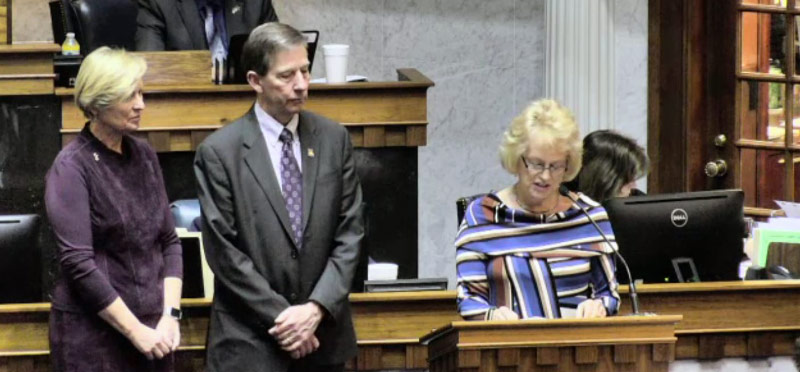 Senator Becker presented the resolution during the Senate session and invited the Kazees and other UE representatives to join her at the podium. In the House, Representative Ryan Hatfield, Representative Wendy McNamara, and Representative Carey Hamilton commented on the Kazees' tenure and the outstanding programs offered at UE. President Kazee also said a few words during the House Session.
Additional UE representatives in attendance included alumna Sally Rideout '91; vice president for development and alumni relations, Abigail Werling M '09; executive vice president for academic affairs, Michael Austin; immediate past chair of the board of trustees, Steve Harkness '70 H '06; and UE's regional development officer, Brooke Higginbotham '03.