Article Detail
UE announces investiture of two Chemistry professors
Posted: Wednesday, March 1, 2023
The University of Evansville's (UE) Ridgway College of Arts and Sciences announced the investiture of two Chemistry faculty members during a ceremony on Tuesday.
Dr. Kristy K. Miller was named the Weller Endowed Professor in Chemistry and Dr. Roslyn Lampkins was named the Wargel Endowed Chair in Chemistry.
Weller Endowed Professor in Chemistry
Eloise and Lowell Weller were natives of Ohio, and both graduated with bachelor's degrees from Bowling Green State University. Lowell earned a master's and doctoral degree in Chemistry from Michigan State University. Eloise earned a master's degree from Indiana University and was a teacher in the Evansville-Vanderburgh School Corporation. Lowell was an assistant professor at Michigan State University before joining the faculty of Evansville College in 1957. He was a professor and the chair of the Department of Chemistry until his retirement in 1989, after which the University conferred the status of professor emeritus to him. Lowell was a member of the American Chemical Society and the Royal Society of Chemistry. He was also a World War II veteran and served in the ETO. Eloise and Lowell had two sons, Ronald Weller, MD, of Merion Station, Pennsylvania, and Donald Weller, PhD, of Millersville, Maryland.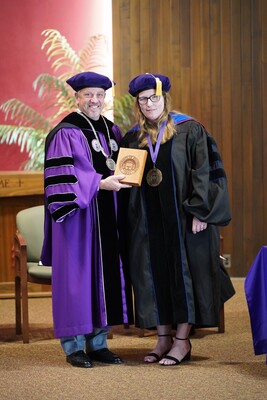 Kristy Miller, PhD, is Professor and Chair of the Robert J. '66 and Judy Decker '66 Wargel Department of Chemistry at the University of Evansville. Miller obtained her Bachelor of Science in Chemistry from Indiana University (Bloomington) in 1999 and PhD in Biochemistry from the University of Louisville in 2004. She began her career in the UE Department of Chemistry in 2004 and has been Chair since 2011. Miller is passionate about teaching and covers both general chemistry and biochemistry. Her research interests include the enzyme regulation of 11-Hydroxysteroid Dehydrogenase Type 1 as well as best practices of assessment of chemical education. Since her appointment, Miller has mentored 20 undergraduate research students and been awarded over $80,000 in external funding from both the MERCK/AAAS Undergraduate Science Research Program and the Jean Dreyfus Boissevain Lectureship for Undergraduate Institutions Program. Miller helped initiate the Baccalaureate to Doctor of Medicine (B/ MD) program at UE and has also served on various committees during her tenure at UE, including the University Judicial Board, the Academic Assessment Committee, the Faculty Appeals Committee, Admission and Standards Committee, as well as several search committees. She received the Sidelle and Sydney Berger Award for University Service and has been a recipient of the Eykamp Prize, an award that acknowledges faculty achievement. Miller was also named to the 20 Under 40 Class of 2012 which recognizes individuals under 40 in the Evansville community who exhibit leadership in various ways. Miller enjoys spending time with her husband, Eric, and their daughters, Erica, 14, and Kate, 12. She also enjoys playing golf and tennis and coaching girls' tennis at Evansville Christian School. A native of Washington, Indiana, she is a 1995 graduate of Washington High School.
Wargel Endowed Chair in Chemistry
Roslyn Lampkins, Ph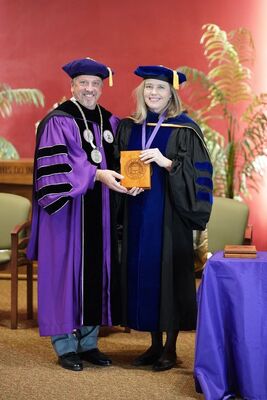 D, joined UE's Department of Chemistry as an Assistant Professor in 2017, and she wasted no time getting her undergraduate research lab up and running. The theme for her research is "supramolecular therapeutics." Lampkins' group uses the principles of supramolecular chemistry (molecular recognition and intermolecular interactions) and computational analysis to design and synthesize purine-based scaffolds that can be used as enzyme inhibitors and DNA minor-groove binders. Lampkins received a Bachelor of Science in Chemistry from Western Kentucky University. During her time at WKU, she had the opportunity to work as an undergraduate researcher studying substrate-assisted ortho-metalation of aromatic molecules in hydrocarbon solvents to improve the synthesis of pharmaceuticals. She also participated in a summer research experience for undergraduates at the University of Tennessee, where she synthesized and investigated polymer-supported dyes to selectively bind and remove toxic metals from aqueous environments. It was these undergraduate research experiences that sparked her interest in chemistry and inspired her to pursue a career path toward becoming an academic scientist and educator. Lampkins received her PhD in Organic Chemistry from the University of Florida. Her graduate training in the Castellano lab involved designing, synthesizing, and characterizing a novel class of purine derivatives and exploring their applications in self-assembly and molecular electronics. After receiving her PhD, she conducted postdoctoral research at the University of Notre Dame in the lab of Professor Paul Bohn, where she worked on integrating microfluidics and electrokinetics to develop early prototypes of novel "lab on a chip" sensor devices. Lampkins has mentored 17 undergraduate researchers since joining UE. These students have delivered presentations of their work at various local, regional, and national conferences. Lampkins enjoys reading, the outdoors, and spending time with her husband, Andy, and their twin sons, Clark and Luke.
Dr. Robert J. '66 and Judy Decker '66 Wargel
The University of Evansville Department of Chemistry is proud to be named after Bob and Judy Wargel, two alumni and friends whose generosity has supported remarkable student experiences, cutting-edge faculty research, and a continuously enhanced academic experience. Bob and Judy were students of UE when it was still known as Evansville College. Through the years, they remained connected to the University where they first met. For Judy, whose mother had graduated from Evansville College, attending UE was a family tradition. For Bob, the decision was financial. He enlisted in the Air Force after high school. Upon his discharge, he returned to Evansville, lived at home, and worked full-time while attending college. They both earned degrees in Chemistry. After graduating from UE in 1966, Bob pursued his PhD from Northwestern University in Illinois, and Judy joined Abbott Laboratories where she worked as an information scientist, a medical writer, and ultimately in regulatory affairs. Upon retirement, the Wargels followed their love of volunteering. One of their passions was improving health and wellness in third-world countries. The UE Department of Chemistry has been a particular recipient of the Wargels' generosity. The couple helped spearhead the Dr. Lowell Weller Chemistry Instrumentation Fund, which led to the purchase of a new 400 MHz Bruker Biospin NMR spectrometer. Bob and Judy gave countless hours to the department by sponsoring summer internships for students and establishing a planned gift to the department.