Article Detail
University of Evansville Celebrates 165th Commencement Ceremony on May 6
Posted: Monday, May 8, 2023
The University of Evansville bestowed 517 degrees upon 510 graduates during the 165th commencement ceremony on Saturday, May 6. President Christopher Pietruszkiewicz presided.
Several awards were given at the ceremony including the Mabel Dillingham Nenneker and Guthrie May Outstanding Senior Award, the Outstanding Teacher Award, and the Eykamp Prize. Additionally, two honorary degrees and the Presidential Medal of Honor recipients were featured during the celebration.
Full information on the award recipients is as follows: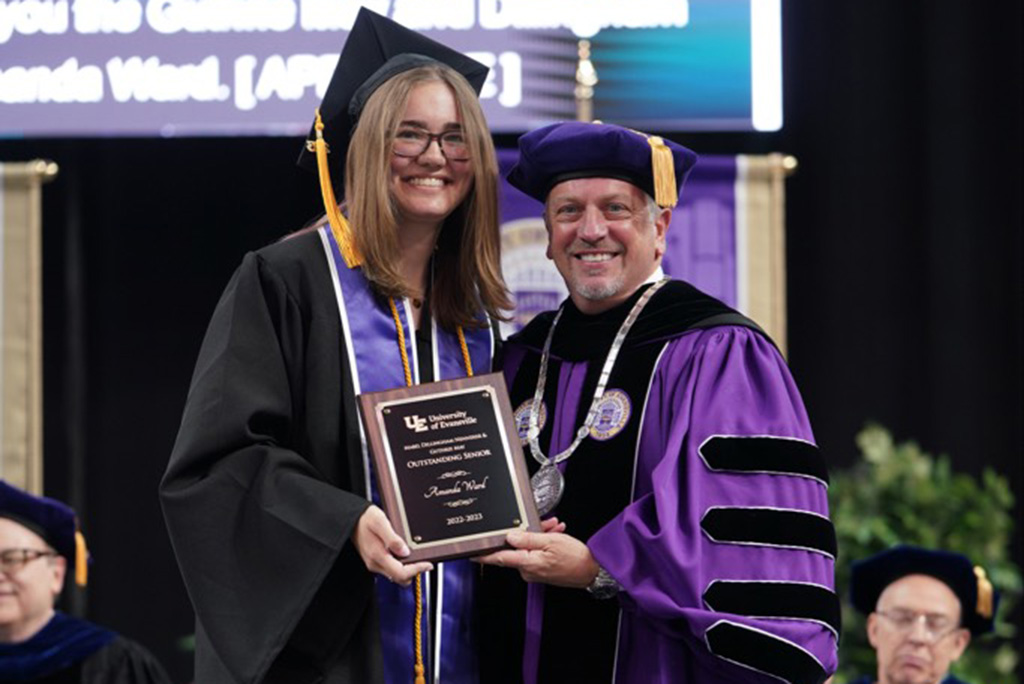 2023 Mabel Dillingham Nenneker and Guthrie May Outstanding Senior Award
Each year, a committee of students and faculty selects an award recipient for the most outstanding senior. The selection is based on high academic performance, commitment to service, outstanding leadership, and involvement in diverse campus activities. The award is named after two of the University's most respected alumni, Mabel Dillingham Nenneker and Guthrie May.
This year's recipient is Amanda Ward. She truly embodies UE's core values of inclusivity, innovation, integrity, and intellectual curiosity. Ward had been pursuing her Bachelor of Science in Psychology with minors in Social and Human Services, Criminal Justice, and Sociology, making the Dean's List for six semesters. She was heavily involved with Residence Life, the Student Activities Board, and Sigma Alpha Iota.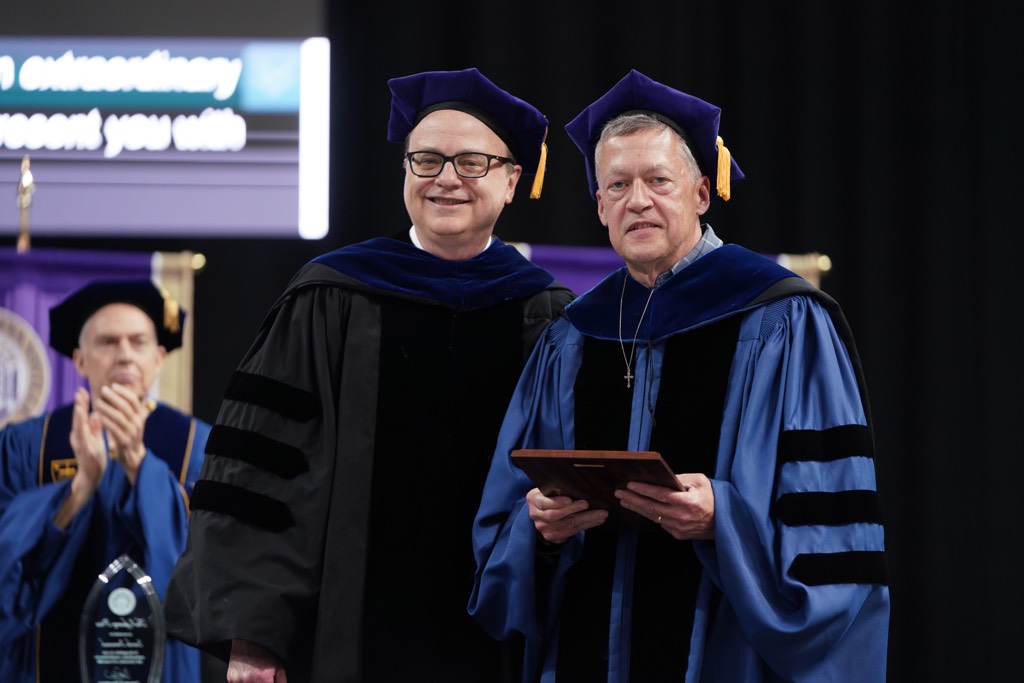 2023 Outstanding Teacher Award Recipient
The 2023 Outstanding Teacher was awarded to Dr. Jim Ware, Professor of Religion.
Dr. Ware teaches classes in the Bible, the Gospels, and ancient Christianity, as well as courses in ancient Greek and literature. His teaching has supported the archaeology, history, classics, and religion programs. Dr. Ware developed and has served as the advisor for the pre-ministry track and is the faculty sponsor for the Newman Club.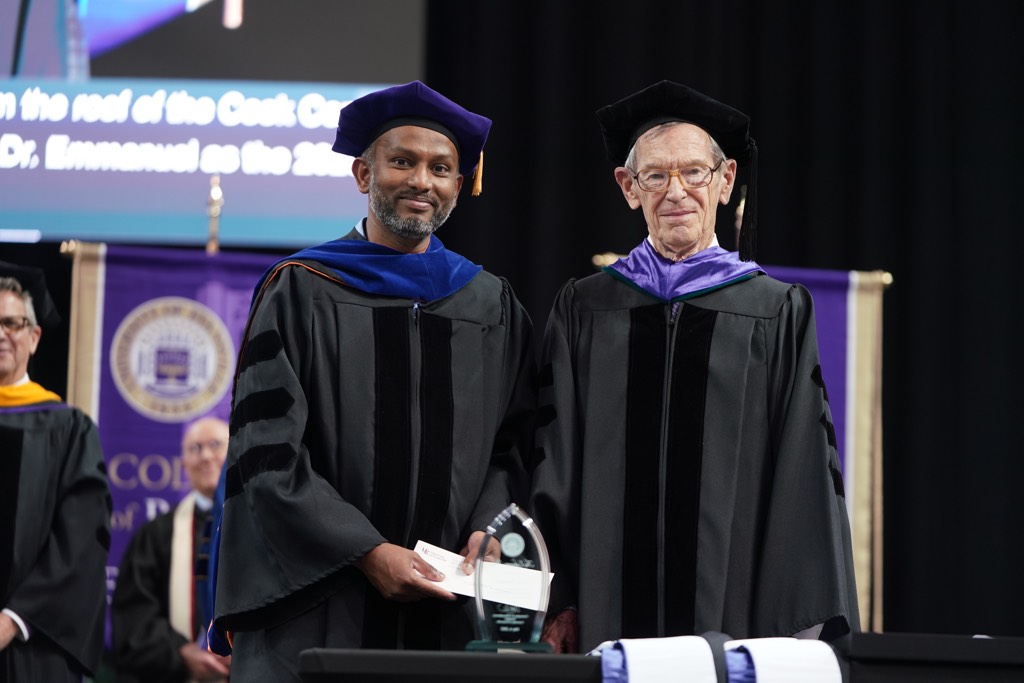 2023 Eykamp Prize Recipient
The recipient for the 2023 Eykamp Prize was Dr. Suresh Immanuel, Associate Dean and Professor of Civil Engineering.
Dr. Immanuel is involved in actively recruiting students for the School of Engineering and Computer Science. He takes the initiative to meet with prospective students individually, and he communicates directly with both parents and students to address any concerns they may have.
Honorary Degrees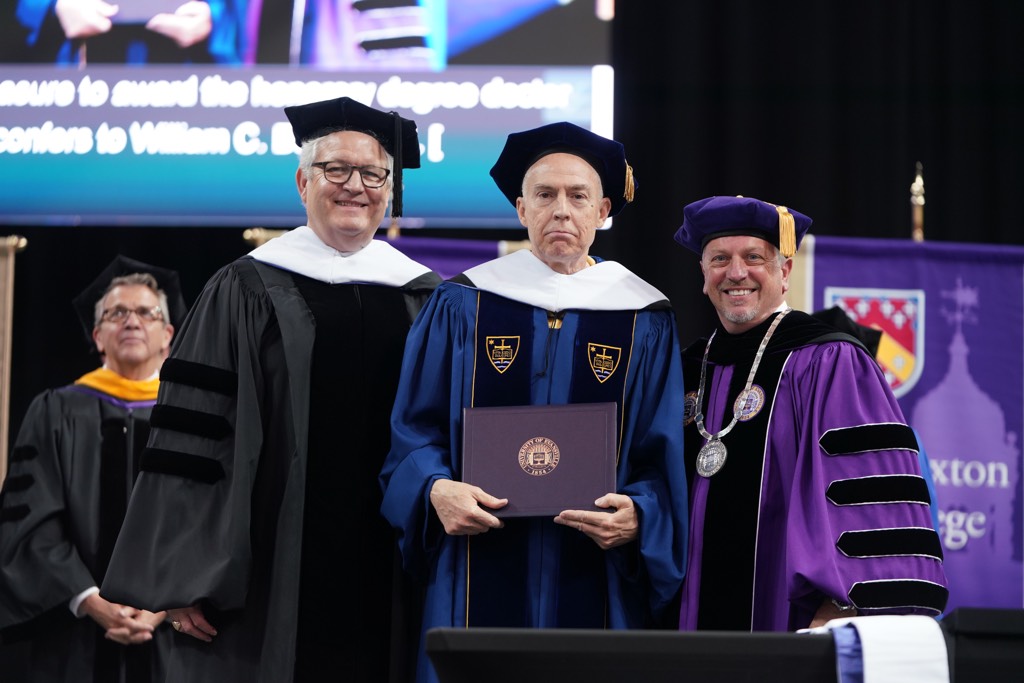 Wilfred C. Bussing III.: Doctor of Humane Letters
The University of Evansville celebrates Bill Bussing's many contributions to the life of UE's campus and beyond. Bussing was born and raised in Evansville, he is an esteemed alumnus of the University of Evansville and has deep roots in the community.
Currently, Bussing is not only a well-respected attorney, but he and his family are proud owners of the Evansville Otters Baseball Team.
Bussing is a highly engaged member of various community organizations and has been recognized with several accolades for his meaningful contributions to society. He embodies the essence of local talent, and we are lucky to have him as part of our community.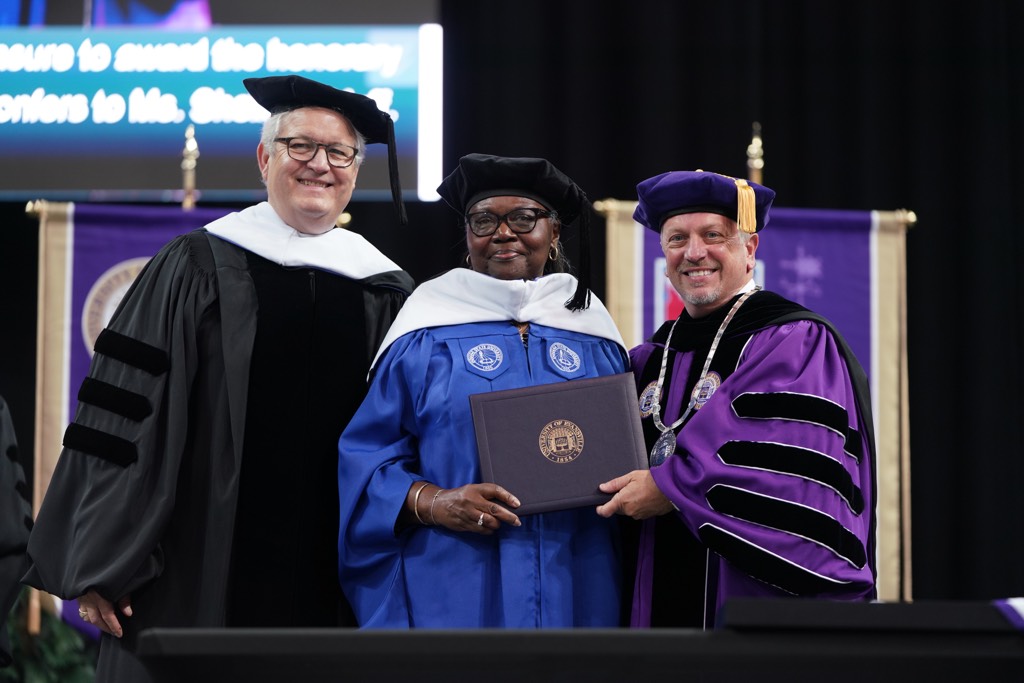 Sheila L. Huff: Doctor of Humane Letters
The University of Evansville pays tribute to Huff's contributions and accomplishments to the UE campus impacts on the education system. Sheila has made a significant impact in the community and has been recognized for her contributions to society.
Sheila is the Director of Strategic Engagement for the Evansville-Vanderburgh School Corporation and is actively involved in several organizations. Her dedication to teaching has inspired many students to pursue careers in education, and she has received recognition for her outstanding work.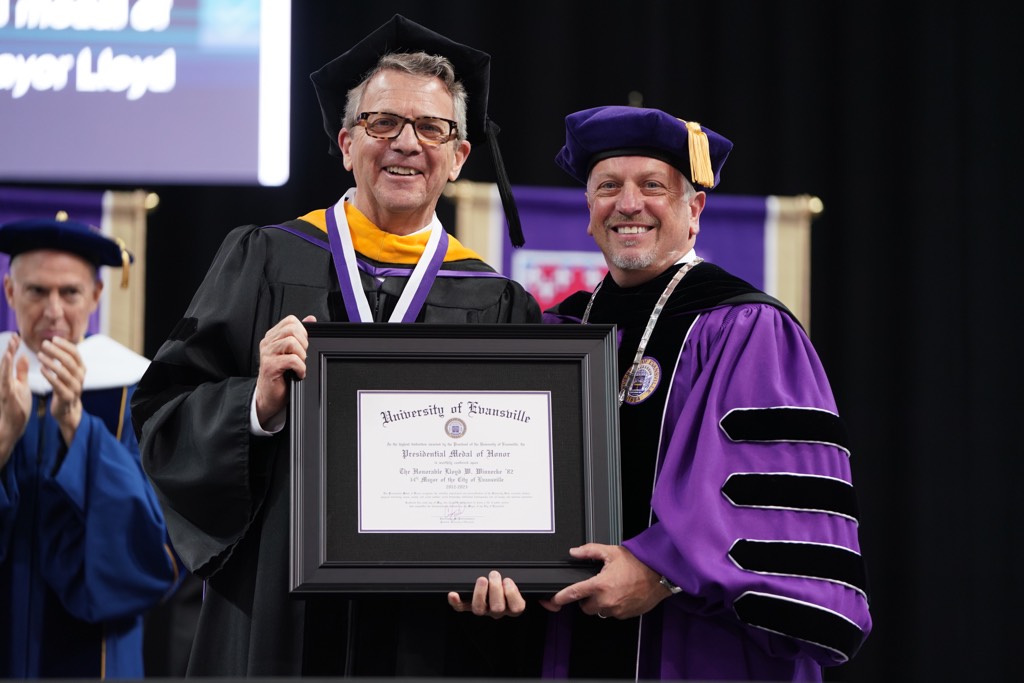 Mayor Winnecke receives UE Presidential Medal of Honor
In light of his extraordinary contributions to the community, the University of Evansville presented the Presidential Medal of Honor to Mayor Lloyd Winnecke at this year's graduation ceremony. The legacy of Mayor Lloyd Winnecke in our community is unchallenged.
In 2012, he was elected Mayor of Evansville and has been so impactful in his three terms in office. Under his leadership, the city has seen the construction of the Stone Family Center for Health Sciences, a collaboration between three universities, four hospitals, and the city.
As a 1982 University of Evansville alumnus, Winnecke continues to be involved with the university in several capacities, including as a UE Connect member, a supporter of UE Theatre and Aces Athletics, and a former PAC Board member. Mayor Winnecke was a deserving candidate for the Presidential Medal of Honor, and UE is elated he received this recognition.