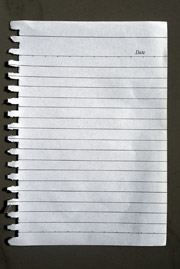 The Writing Center is not a drop-off service, nor is it a triage or fix-it center. It is not a proofreading service, and it is also not a place just for "bad" writers. Many very good writers make use of the Writing Center. Think of it as a gym rather than a hospital - a place where you go to stay in shape rather than somewhere to go only in an emergency.
What should I bring when I visit the Writing Center?
Bring your assignment so that both you and your tutor will understand what your instructor has asked you to do. If you are writing a paper using outside sources, bring the readings; if not, bring notes, an outline, or even a list of questions to focus the conference. If you have nothing on paper yet, that's fine too; the Center is a place to go to begin. Make sure you come prepared to assume an active role in the conference. Conferences work best when you articulate your questions and concerns and you assume responsibility for revising your paper.
Appointments
To make an appointment click the button below and complete the form.
Appointments start at the top of the hour and are scheduled in 50-minute blocks, but writers are not required to use the full 50 minutes. Writers should bring in their draft if they have one (some writers come for brainstorming and idea generation) as well as the paper assignment so that we can see what the instructor has asked of them. We determine what specific questions or concerns the writer has about the paper, and then we sit down together with the paper and either the writer or the tutor reads the paper out loud, discussing questions, confusion, and concerns.
Appointments are not strictly required but are advised because we tend to book up quickly. Writers should arrive at their appointments on time. Writers who are 15 minutes late for their scheduled appointment time may lose their slot; if someone else is waiting and the student is 15 minutes late, the waiting writer will be given the appointment time.
Regular weekly appointments
We offer regular weekly appointments for anyone, but they are especially helpful for those writers who know they will be doing a lot of writing in a class, who have a large project and would benefit from structured times to help manage the load in small pieces, or who are especially nervous or concerned about writing. For regular weekly appointments, a writer will work with the same tutor at the same time every week - say every Wednesday at 2:00. Regular weekly appointments are offered on a first-come first-served basis. If a student misses three appointments without canceling in advance, she forfeits her regular weekly appointment time but can still make a standard appointment.
Office Phone
812-488-5212

Office Email
kg76@evansville.edu

Office Location
Room 253, Clifford Memorial Library Building