Details
Graduation Year: 2014
Majors:
Current Employer: Clark Memorial Hospital
Job Title: ICU Nurse
Contact Methods Available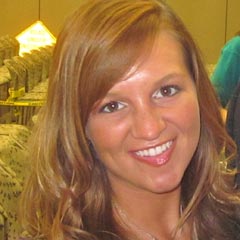 UE Experiences
I was a nursing major at UE. I came to UE not knowing anyone. I was scared to death and overwhelmed. As soon as I stepped foot on campus, a weight was lifted off my shoulder. I became best friends with my nursing class, professors, and girls in my sorority. The University of Evansville's small campus was the perfect fit for me! If I could do college over again, I would in a heartbeat at UE!
Study Abroad Experiences
I studied at Harlaxton in the summer of 2012. I took a class comparing American and British healthcare systems. While studying in England, I had the chance to also travel to Ireland, Germany, Italy, and France. If you don't travel to Harlaxton, then I believe you have missed out on the best way to find yourself in college.
Office Phone:
812-488-1083
Office Email:
career@evansville.edu
Office Location:
Room 234, Ridgway University Center