BS in Organizational Leadership
Leading Change
Accelerated, Online Program
The Organizational Leadership program is a fully online, interactive program that offers two distinct pathways for degree completion:
Pathway 1 is for adults who have already earned an Associate of Arts or Associate of Science or its equivalent (60 hours) and can be completed in two years.
Pathway 2 is for adult students who have not earned any previous college credit or have a limited amount of credit earned.
Experience Matters
Adults who have little to no college credit have the opportunity to apply for up to 12 hours of prior learning credit. The student must be admitted to the program to submit a portfolio for review for each course for which prior learning credit is requested. There is a standard fee for portfolio assessment and for the college-equivalent credit awarded.
Applicants with military training and experience may be able to receive up to 12 credit hours depending on their military experience and the degree program the student chooses. A full review of the transcripts will be completed after an offer of admission is granted.
One-on-one, Personal Attention
The University of Evansville is known for personal attention, and these programs will be no different. We understand It can be intimidating to come back to school as an adult. That's why you'll work with an advisor throughout the program to achieve your goals.
Affordable
The University of Evansville has an excellent reputation for a high value education at an affordable price. You'll be pleased to find our adult undergraduate degree completion programs competitively and affordably priced, without compromising on the high-quality education all UE students experience. Current tuition rates are available on our Student Financial Services webpage.
Earn a Badge along the way!
Students that complete certain courses can share the skills or achievement obtained by earning a digital badge.
Badges within Organizational Leadership Program
Definition of Badging: Representation of a skill or achievement
Becoming a Leader
Applying skill sets obtained in coursework: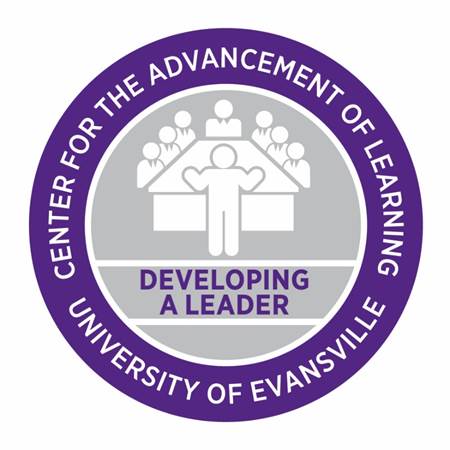 OL 310-fostering relationships and motivating and empowering others
OL 322-leading ethically in a changing environment
OL 422-leading a team through continuous development focusing on conflict and creative problem-solving
Becoming a Changemaker
Applying skill sets obtained in coursework: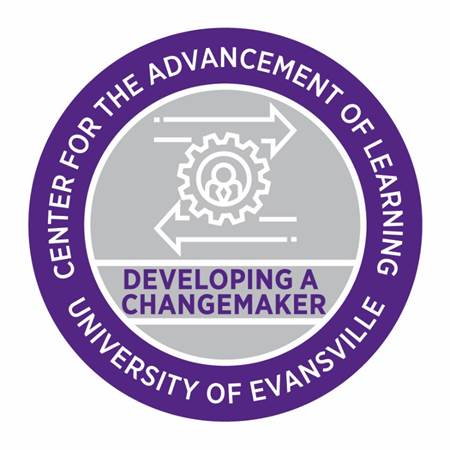 CHNG 280-leading innovatively while working through social and environmental problems
CHNG 310—leading organizations through social change and social innovation while understanding the role as a global citizen
OL 420-leading and thriving in a global environment focusing on ethics, social responsibility, law and technology
Requirements
When you're ready to apply, here are the requirements and documents you'll need to get started.
Official college transcripts.
Complete application.
Résumé reflecting any working experience.
Program Learning Outcomes
Demonstrate social responsibility with a global perspective.
Develop strategic thinking and problem solving skills for leading teams effectively.
Lead change within organizations and community.
Develop analytical and decision-making skills for dealing with complex conceptual issues ethically and responsibly.
Contact us at cal@evansville.edu to learn more about program requirements and get started today on your journey!
Office Phone
812-488-2981

Office Email
cal@evansville.edu

Office Location
Room 264, Clifford Library

Office Hours
8:00 a.m. to 4:30 p.m. CDT