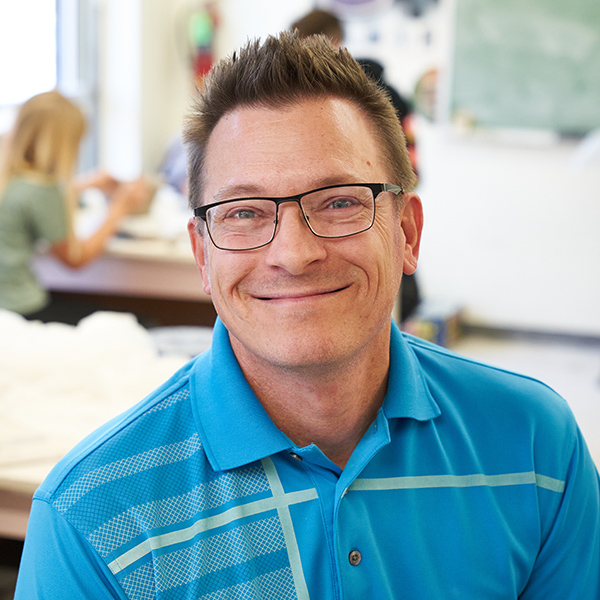 Mr. Todd Matteson
Department Chair, Associate Professor of Art

812-488-2783
tm8@evansville.edu

Todd was born in Washington, Indiana and attended the University of Evansville for his Bachelor of Science Degree (95). He was a studio assistant under Professor Les Miley from 1997-1999 while working at UE. In January of 2000, Todd started his Masters of Art degree in Ceramics at Purdue University. After graduating from Purdue in 2002, he became an Adjunct Instructor at Ivy Tech State College in Lafayette, IN as well as the Ceramics Instructor and Studio Technician at the West Lafayette Museum of Art. Todd was accepted into the Master of Fine Arts in Ceramics program at Kansas State University in 2004 and received his degree in 2006. During this time, he was an adjunct instructor at Washburn University. Upon graduation, Todd landed his first full-time professorship at Lourdes University, Sylvania, OH. Todd spent 9 years there as Assistant and Associate Professor as well as the Chairperson of the Art Department. He oversaw the Pre-Art Therapy, Studio Arts, and Art History programs in his final 3 years there. Todd was an elected representative of Faculty Senate at Lourdes and chaired numerous senate subcommittees. He was an officer in the Toledo Federation of the Arts Society, a member of the Sylvania Arts Commission, and sat on boards of other Toledo area art organizations. In 2015, Todd returned to UE to teach Ceramics, Sculpture, and Foundation courses. He is currently Associate Professor and serves as a Faculty Senate Subcommittee member of Fiscal Affairs and Promotion and Tenure. He was Co-Chair of the Strategic Vision Committee Goal 5. He is a member of the Education Advisory Council, as well as serving on their Curriculum Committee for Art Education. Todd serves on the Martin Luther King Jr. planning committee as well. He is a member of the NCECA (National Council for the Education of Ceramic Arts) and the Arts Council of Southwestern Indiana.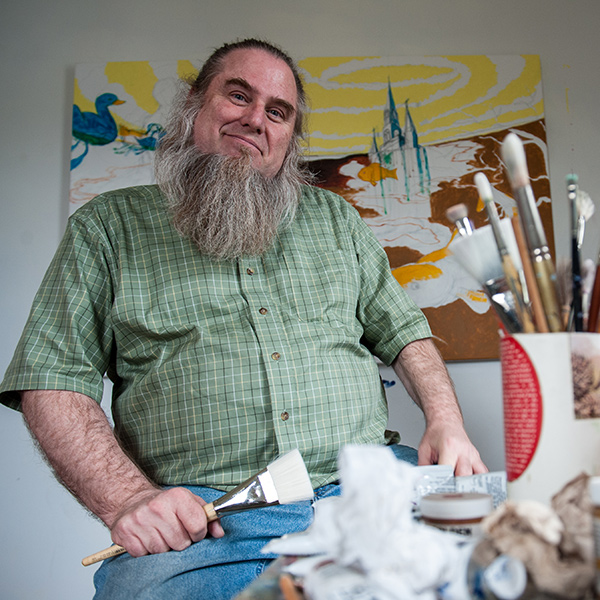 Mr. Ralph Larmann
Professor of Art

Room 203, Krannert Hall of Art and Music
812-488-2782
rl29@evansville.edu

Professor Larmann teaches painting and art general education courses, exhibits paintings nationally, and writes art texts for college and advanced placement high school art programs worldwide.

Students in his painting course have worked in a many painting media including oils, acrylics, encaustic, egg tempera, casein, watercolor, and mezzo fresco. General education courses Introduction to the Visual Arts is an overview focusing on visual literacy and Introduction to Studio Art is a survey of art studio materials and techniques. His paintings have been included in international shows at the Kinsey Institute at Indiana University Bloomington and UE branch campus Harlaxton College in the United Kingdom. National group exhibitions include Art at the X, Xavier University, where he won the Best of Show Award earning a solo exhibition in the University's Gallery. Other solo exhibits include Indianapolis Museum of Art, Loyola University Chicago, and the Dayton Visual Arts Center. Professor Larmann is the coauthor of Gateways to Art, Journal for Museum and Gallery Projects, and the Thames & Hudson Introduction to Art, all published by Thames & Hudson and distributed by W. W. Norton in the United States. Gateways to Art has been translated into Mandarin Chinese and Korean.

He has received the Berger Award for Excellence in Scholarly Activity and twice served as Visiting Professor at Harlaxton College.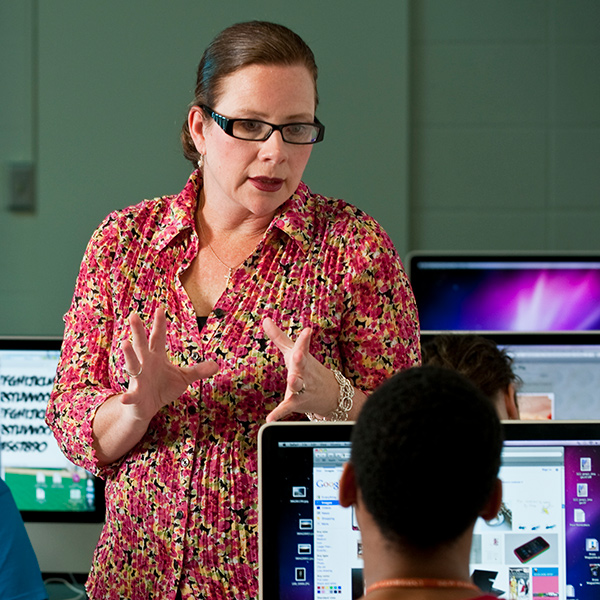 Mrs. Stephanie Frasier
Professor of Art

Room 202, Krannert Hall of Art and Music
812-488-1003
sf47@evansville.edu

Stephanie Frasier earned a Master of Fine Arts degree in graphic design from Indiana State University and a Bachelor of Science in Art with an emphasis in graphic design from the University of Evansville. She is a Professor of Art.

While a student at UE, Professor Frasier interned at an agency that offered her a full-time position. Upon graduation, she worked her way through several advertising agencies up to the level of Senior Art Director. During her agency employment she worked on national and international accounts such as Microsoft, Motorola, Mead Johnson/Bristol Myers, Kimball International, Papa Johns, and many others. Her work has won numerous awards including a prestigious Addy Certificate of Excellence before returning to UE in 2001 to teach.

As a Visual Communication Design Educator, Professor Frasier has over 29 years of graphic design industry experience (agency and freelance) as a designer, photographer, artist and illustrator. She teaches undergraduate design students by engaging them in an environment focusing on real-world problems that encourage effective, creative and innovative solutions. In 2017 she received the Dean's Teaching Award.

As an artist, Professor Frasier is an award-winning photographer and illustrator who manipulates her images in various computer programs. She also experiments with a variety of printing methods. Her work is included in many juried exhibitions and private collections. Some of her recognitions include "Best of Show" 2010 Olive Tree Arts Exhibition and "1st Place Photography" 2011 Inspired Women in Art Southwestern Indiana Arts Council Exhibition. She also remains very active professionally through her freelance design business, where she produces work mostly for non-profit organizations.
Staff
Mrs. Carol McCraney
(she/her/hers)
Administrative Assistant

Room 50, Schroeder School of Business Building
812-488-2687
cm177@evansville.edu

Office Phone
812-488-2043

Office Email
art@evansville.edu

Office Location
Room 212, Krannert Hall of Art and Music