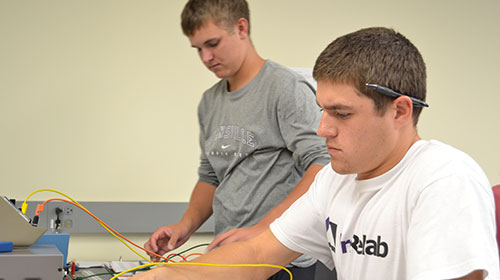 Programs in Physics
Whether students are interested in teaching physics, beginning a career in science, or building a strong foundation for graduate work, the physics program at the University of Evansville provides the tools needed to succeed at the next level.
A major in physics provides a foundation in a fundamental science that can be built upon in graduate studies in physics or engineering. The degree can also be applied in a wide range of science-related careers such as medicine, electronics, energy and computer science, or it can be shared with others through a career in teaching.
BS in Physics
A BS in Physics at the University of Evansville requires a total of 120 credit hours of course work. Included in these 120 hours are the following:
Course work table
Subject
Courses
General Education (41 Hours)
Mathematics Courses (12 Hours)

MATH 221 and 222: Calculus I and II (8 Hours)
MATH 323: Calculus III (4 Hours)
Recommended - MATH 324: Differential Equations
Recommended - MATH 341: Linear Algebra

Chemistry Courses (4 Hours)

CHEM 118: Principles of Chemistry (4 Hours)

Physics Courses (44 Hours)

Phys 150: Intro to Physics at UE (2 hrs)
Phys 210 & 211: Calculus Physics I & II (8 hrs)
Phys 213 & 214: Modern Physics with Lab (4 hrs)
Phys 305: Mathematical Methods (3 hrs)
Phys 312: Classical Mechanics (4 hrs)
Phys 340 or 350: Computational Physics or Electronics (3 or 4 hrs)
Phys 401: Advanced Electricity & Magnetism (4 hrs)
Phys 414: Advanced Lab (3 hrs)
Phys 416: Statistical Thermodynamics (3 hrs)
Phys 471: Quantum Mechanics (3 hrs)
Phys 494: Physics Seminar (1 hr)
Phys 499: Research Experience (1 hr)
Physics Electives (7 hrs)
BA in Physics
The Bachelor of Arts in Physics is available for students who plan a career in secondary education, or who wish to include physics as part of a broader liberal arts program. The BA requires 32 hours of physics courses, plus two years of foreign language.
Physics Minor
21 hours of physics courses are required for a physics minor, including the following:
Phys 210 & 211: Calculus Physics I & II (8 hrs)
Phys 213 & 214: Modern Physics with Lab (4 hrs)
Phys 305: Mathematical Methods (3 hrs)
Phys 312, 401 or EE 320: Mechanics, E&M (4 hrs) or Engineering E&M (3 hrs)
Phys 416 or 471: Statistical Thermodynamics or Quantum Mechanics (3 hrs)
Office Phone
812-488-2671

Office Email
js384@evansville.edu

Office Location
Room 240, Koch Center for Engineering and Science