Resident Assistant Position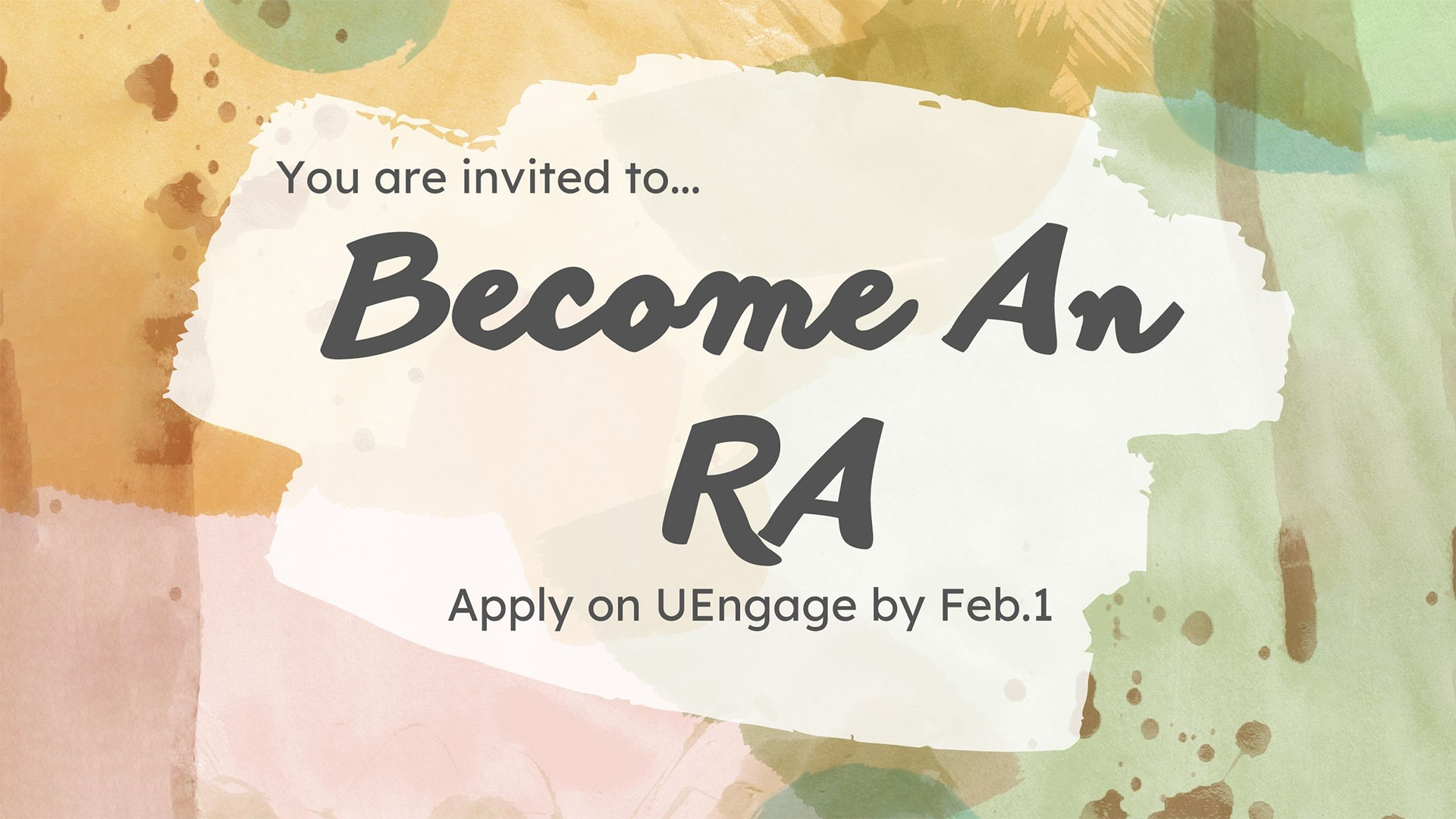 Resident Assistants
Think about making a difference on campus by being an RA!
Each semester, the Office of Residence Life opens a process for filling position vacancies.
You can find RA applications on UEngage under Forms.
The resident Assistant Position provides opportunities for growth and leadership for both the Resident Assistant and the students on his or her floor.
Everything an RA does has an impact! Conversations with residents over lunch, being a resource for students in need, providing guidance on college policies and procedures, the formal and informal programs provided, all have a significant impact on the experience of residents and the atmosphere of the hall.
Serving in the residence halls or campus "villages," the Resident Assistant is a full-time undergraduate student whose responsibility is to serve as a student advisor to 15-60 undergraduate students, depending on their placement. The RA is a part-time staff member of the Residence Life Office and the Division of Student Affairs. In this capacity, the overall responsibility is to provide leadership, assistance, and support to the students living in their area. Each Resident Assistant serves in diverse roles with many different responsibilities. Working in cooperation with the professional staff, the Resident Assistant strives to facilitate and maximize the residential experience.
Due to the nature of the position, a large portion of the Resident Assistant's responsibilities is spontaneous and unscheduled. As a result, each staff member must carefully organize time commitments to meet the demands of academics, the RA position, and personal interests.
Resident Assistant Application Process
Application Materials: All applications and recommendation forms are available electronically on UEngage under "Forms."
References: We ask each applicant have two references. Those individuals serving as references can use the link above to fill out the form directly. References can be anyone who can speak to an applicant's work ethic, reliability, character, professionalism, etc. The most common references are current or past RAs, supervisors, employers, teachers, or professors. References should not be close family or friends.
Selection Process: Interviews are conducted in the Center for Student Engagement. A link to sign up for interview availability will be sent to you after you have submitted your application. Final interview times will be sent via email.
RA Orientation: All newly hired RA's are asked to complete an RA Orientation (date and times TBD). In addition to the Orientation, new RA's will be expected to prepare for their position before the end of the semester through activities such as shadowing current RAs. Further details will be provided once the selection process has been completed.
Position Overview
Peer Counseling and Referral: Resident Assistants provide paraprofessional counseling and advising in the areas of personal, social, and academic problems. For problems which require greater expertise, students are referred to the various resources available at the University and the larger community. Training sessions in basic counseling and referral techniques are provided.
Event Planning: Resident Assistants are asked to implement a balance of high quality educational and community development events for their floor and building. Under the guidance of their direct supervisor, RAs will work individually and in groups to accomplish the event planning goals of their building.
Building a Sense of Community: A significant task for the RA is to provide or support activities that assist students in developing a sense of belonging with the other members of the residence hall. In addition, through formal or informal community development strategies, the RA strives to help students establish common goals and standards, as well as respect for each student's uniqueness.
General Administration and Building Coverage: Among the duties assigned are those involving routine paper work and other administrative tasks needed to help a community run efficiently. These tasks may include, but are not limited to, the completion of individual room and public area condition reports, and documentation of inappropriate behavior. Resident Assistants also have regular rotating duty coverage of their building or unit on weekdays and weekends. In addition, staffs are expected to be present in the building prior to all openings and closings.
Applied Skills: RAs will be challenged to use their skills and training to respond effectively to the various situations that may arise. It is very important that Resident Assistants provide and encourage experiences contributing to beneficial outcomes for their individual residents and the living unit as a whole.
Terms of Employment
A minimum 2.5 cumulative grade point average is required at time of application and must be maintained throughout employment. If at any point during the semester your semester average falls below 2.5, the RA will be required to evaluate their academic performance and work performance with their supervisor.
The RA must be in good standing (behaviorally) with the University at the time of application and throughout employment.
The RA must have completed at least 2 semesters of college, (minimum one semester at UE) before contract start date.
The RA must be a full-time undergraduate resident student (12-18 credit hours), unless otherwise given permission by the Director of Residence Life.
The RA must be available at least two and a half weeks prior to the start of fall classes and one week prior to the start of spring classes. As well as up to 1 week following the end of both semesters.
It is preferred that the RA be available for the entire academic year, however, the Office of Residence Life supports study abroad and other opportunities.
The RA is required to participate fully in the Residence Life training program.
The RA will be given ongoing performance appraisals by his/her supervisor in order to enhance and strengthen skills.
Outside employment and work study other than that of Resident Assistant must have prior approval from the immediate supervisor and the Director of Residence Life. Employment and other non-academic commitments should not interfere with job performance.
The RA must successfully pass a background check.
Compensation
RAs in residence halls receive the following compensation and benefits:
An RA Scholarship that covers 100% of your housing costs.
A single room at no additional cost
(New Hall offers a single room with a private bathroom)
Training and an on-the-job experience that sets you apart!
And it can just be plain fun!
Hope you consider joining us!
Office Phone
812-488-2956

Office Email
residencelife@evansville.edu

Office Location
Student Life Center, Second Floor, Ridgway University Center