Affordability and Aid
You can afford UE! Let us show you how.
You've probably heard it all… we provide a high-quality education, access to the best faculty around, and an incredible student experience through internships, study abroad, and other activities.
While those facts all ring true, that high quality education comes at a cost.
Paying for college is one of the main concerns when it comes to finding the right institution. At the University of Evansville, we work closely with families to make sure that a UE education is affordable.
*adjusted gross income for first-time,
full-time freshmen for Fall 2020
How much does it cost? UE costs less than the average tuition of comparable universities.
For the 2020-2021 school year, the average amount that an undergraduate student pays for tuition and fees at a Top Liberal Arts Colleges is $56,249. During this same period, the average amount that an undergraduate student pays for tuition and fees at the University of Evansville is $38,686.
Tuition and Fees Comparison
That still seems pretty expensive.
The sticker price is certainly a big number. Let us show you how we help make UE affordable for you!
University of Evansville Scholarships Entering Freshmen Fall 20211
Whichever is Highest
Scholarship
Weighted High School GPA2
OR
ACT Score3
OR
SAT Score3
Academic Merit + Housing Scholarship4
Presidential Scholarship
4.25+
29+
1330+
$21,000-$23,000
Dean's Scholarship
4.00 to 4.24
27-28
1260-1320
$19,000-$21,000
Faculty Scholarship
3.75 to 3.99
25-26
1200-1250
$17,000-$19,000
Academic Scholarship
3.50-3.74
23-24
1130-1190
$15,000-$17,000
Aces Award
3.25-3.49
21-22
1060-1120
$13,000-$15,000
Purple Award
less than 3.25
less than 21
less than 1060
$10,000-$12,000
1
Excludes international and transfer students.
2
If your high school does not weigh GPAs, this will be taken into account when determining your scholarship eligibility.
3
The University of Evansville is a
test optional
institution. If test scores are not available, use your GPA.
4
Local students living with family should contact their admission counselor to find out how this will impact their total scholarship award.
What will the actual cost be? It depends.
The actual cost is different for each family. If you take the sticker price and subtract all of the financial aid such as scholarships, need-based aid, grants, and work-study opportunities, the actual cost may be much lower than you think!
Sticker price refers to tuition and fees. Fees differ by institution and may fund library services, student gym facilities, student centers, technology resources and campus health centers.
Source: College Tuition Compare
Are public schools more affordable?
Not always!
When you consider tuition and actual cost, you should also consider graduation rate.
To put it simply, the longer you are enrolled, the more tuition you'll owe. The sooner you graduate, the sooner you'll be out earning an income or on your way to a graduate degree.
I don't want to be in debt forever. You won't be.
Year after year, our graduates prove the value of a UE education by landing well-paying jobs within a few months of graduating. This leads to a lower-than-average loan default rate.
In short, our students get jobs and pay their bills.
Source: US Department of Education
But won't I still graduate with more loans than I would somewhere else? Not necessarily.
You might be surprised to see that at UE you may graduate with a similar debt as you would at a US public university.
Last year, the median debt of students graduating from UE was only $100 more than that of students who graduated from US public universities. Also, the median debt of UE graduates was $12,900 less than that of graduates from US private colleges.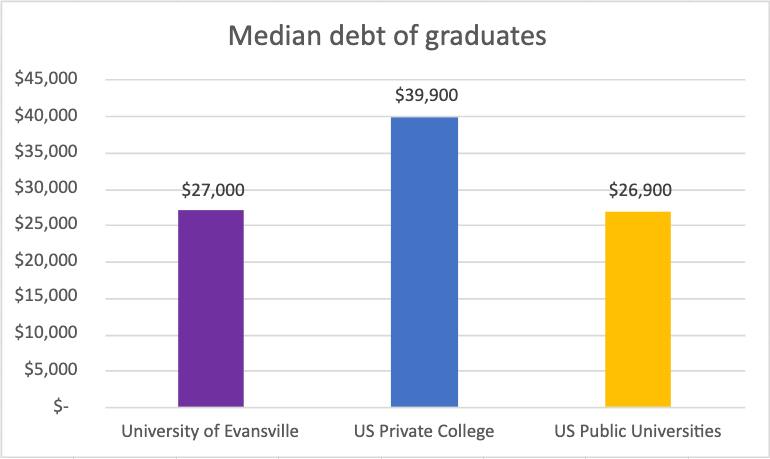 Source: Collegessimply.com
You can't afford NOT to go to UE!