As an employer partner, you are invited to schedule on-campus interviews and information sessions at the University of Evansville at no fee. We are happy to work with you to meet your needs regarding dates and times. If you are interested in scheduling an on-campus recruiting activity, please contact us to discuss the job posting and on-campus interview process.
As a reminder, you may request on-campus recruiting dates in Handshake. The Center for Career Development will coordinate the interview times and potential students for the interviews.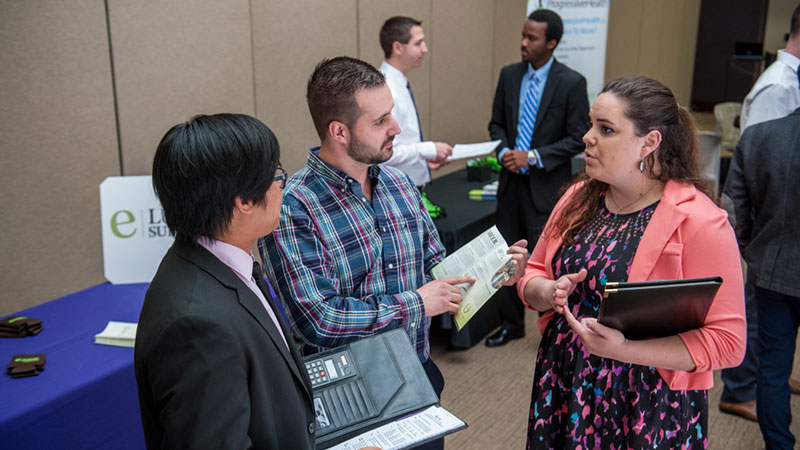 Important Dates and Reminders
On-campus recruiting is a great opportunity to increase visibility and student awareness of your company at UE! The Center for Career Development would like to provide you with assistance and suggestions for developing a successful plan that meet your needs.
Recruitment Season
The following is the University of Evansville's recruitment season, excluding University holidays.
Fall 2022: August 24-December 15, Holidays: September 5, October 8-11, November 23-27
Spring 2023: January 9-May 4, Holidays: January 16, March 4-12, April 6-9
- Career Fairs
The following are the main careers sponsored by the University of Evansville.
Engineering, Business & Technology Career Fair - Tuesday, September 13, 2022; 1:00 p.m.- 3:00 p.m.
Health Careers Fair - Tuesday, October 25, 2022; 1:00 p.m.-4:00 p.m.
Career Day - Tuesday, February 7, 2023; 1:00 p.m.-4:00 p.m.
Teacher Recruitment Fair - Tuesday, April 4, 2023; 10 a.m.-3 p.m.
Contact us at career@evansville.edu or 812-488-1083.
Office Phone
812-488-1083

Office Email
career@evansville.edu

Office Location
Room 234, Ridgway University Center