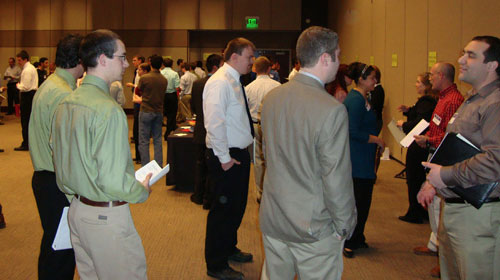 Network with Students
Serve as a volunteer career advisor for UE students and graduates.
While attending college or upon graduation, did you ever have the feeling that you wanted more credible career information or that you were facing your professional future with a minimal support system? Career knowledge and networking are important keys to success in the competitive post-graduation environment facing our students and new alumni. You can help bridge this information and support gap by joining the University of Evansville Professional Network.
The UE Professional Network is an easy, convenient and effective way for Alumni, Friends of The University and recruiters referred to as UE Partners to serve as Volunteer Career Advisors for students and graduates. The Network is:
Comprehensive
A web-driven database where students can connect with UE Partners for career information guidance, networking, job search advice and professional information.
Easy
It links students to UE Partners and provides access to Linked In and Twitter connections.
Simple
To participate, simply register with the Handshake database, below. In minutes, your account will be set up and you will be giving back to UE and sharing a precious gift: your expertise and real-world experience.
Flexible
As a UE Partner, you set the parameters and limits of participation, for example: you determine how you will be contacted and by how many students or alumni at any one time.
By joining the UE Professional Network, you are giving back to the University and investing in our next generation of leaders and professionals.
Office Phone
812-488-1083

Office Email
career@evansville.edu

Office Location
Room 234, Ridgway University Center