The University of Evansville offers a unique summer housing program for summer interns and researchers for qualified college students. Eligible individuals must be enrolled in a degree-seeking program and actively involved in a summer research or internship program in the Evansville area.
Participants in this program must be 18 years of age or older.
We offer first-rate accommodations at competitive prices. Shared four-person units provide residents the opportunity to interact with peers and other summer interns. While it is desirable to have all occupants be part of the same intern program, the University reserves the right to fill space with interns from different companies. All summer interns will be housed in modern, attractive, and convenient townhouse properties or campus apartments.
Each two-story, four-person unit, offers private locked bedrooms and two semi-private bathrooms. All townhouse units come furnished with complimentary amenities including:
First floor: 1 private furnished bedroom, semi-private bathroom, full kitchen with dishwasher, in-unit laundry room, and a shared furnished living room with flat-screen TV.
Second floor: 3 private furnished bedrooms, semi-private bathroom with shared vanity area.
Complimentary Ethernet, and Wi-Fi.
Laundry located within each unit - convenient and free
Bedrooms include:

Single extra-long bed
Desk, chair, and nightstand

Kitchens include:

Cabinets with granite countertops
Glass top range, oven, and microwave
Stainless Steel sink and disposal
Full-size refrigerator
Dining nook with 4 barstools

Living Room includes:

Sectional couch
Coffee table
Entertainment center with 40" flat-screen TV for streaming

Exterior grounds offer a park-like setting with BBQ grates and picnic tables
Free Parking
24/7 emergency response staff
24/7 automated locking exterior doors with magnetic card access – individual keys for bedroom doors
All utilities included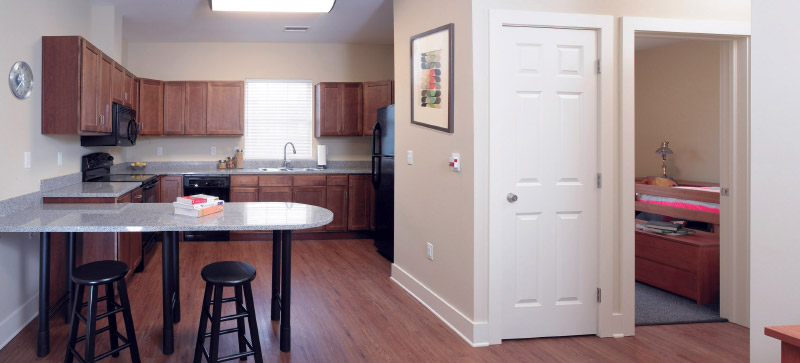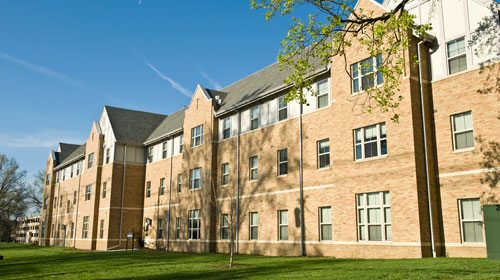 Jones Hall features updated amenities within a 4-person, private bedroom floor plan. Each apartment offers private locked bedrooms and two semi-private bathrooms.
Each apartment is equipped with a kitchen that includes an eating island, full-size refrigerator, sink disposal, dishwasher, and a glass top stove/oven with an attached microwave.
The living room has a 3 seat upholstered couch, an upholstered armchair, 1 end table, and a coffee table.
Each bedroom comes standard with a twin-size bed, dresser, desk/chair, and built-in closet. There are also 2 shared bathrooms in each apartment.
Other amenities include Internet (both direct port connections and Wi-Fi) in bedrooms and living rooms.
The complex offers a shared free laundry, mail services, elevator, vending, and two common lounges. Other amenities include:
Free parking in an adjacent parking lot.
24/7 emergency response staff
24/7 automated locking exterior doors with magnetic card access – individual keys for bedroom doors
All utilities included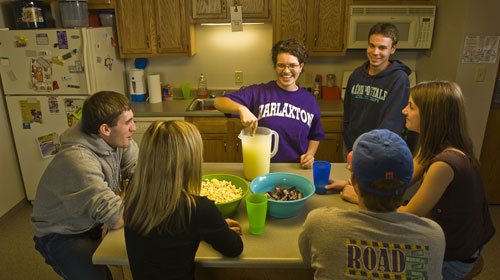 Reservations and Rates
Intern status must be verified by sponsoring company and University. Four-person units will be filled by interns of the same gender. Housing is available on a first-come, first-served basis, with a minimum stay of two weeks. All housing fees must be paid in advance*. Requires a $250 advance deposit.
*If full payment cannot be given upon move-in, payment plans are available. A $25 handling fee is applied to each split payment. Requests for payment plans must be submitted one week before scheduled move-in. Requests made after this deadline will not be approved.
2024 Dates and Rates
Walnut Townhouses are available for intern rental from May 11, 2024, to July 28, 2024. Each guest will pay $34/night.
Policies and Procedures
These special housing accommodations are designed to house serious students only. We expect all participants to follow all University policies and procedures, as well as Indiana laws. The University reserves the right to evict students found to be in violation of University policy and/or Indiana Law, and your payment(s) may be forfeited.
The resident agrees to maintain a proper standard of behavior and not disrupt the residential community. Violations of the terms of this contract or any of the University rules and regulations can be treated as a breach of contract. Participants dismissed from University housing are not entitled to a refund.
Liability for Loss of or Damage to Personal Property
The University of Evansville assumes no responsibility for theft, damage, loss of money, valuables, food, or personal belongings of any student or guest. No personal property insurance is available through the University. Students should check with their families to determine the extent of coverage, if any, under existing insurance policies or purchase independent personal property insurance.
Contract Cancellation
The $250 Commitment and Damage Deposit will be forfeited for contract termination or if there is a reduction to the contracted length of stay.