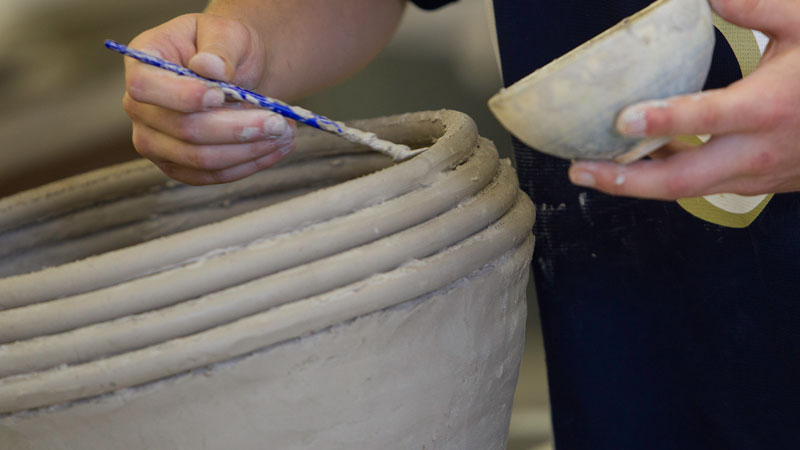 The Department of Art at UE offers a wide range of degree programs and areas of specialization in the visual arts. Each is designed to encourage students in the development of personal ideas and to provide them with technical skills and aesthetic knowledge in preparation for a career in art or a related field.
The core curriculum in art, required of all art majors, provides the fundamental framework for each art degree program and is the foundation for studio courses. While the primary emphasis of the degree program is based on the student's selected art major, a general education component provides the student with opportunities to study the liberal arts.
The Department of Art houses a number of specialized studios for art instruction, including: ceramics, drawing, metalwork and jewelry, painting, photography, sculpture, visual communication design, and watercolor.
Bachelor of Fine Arts in Studio Art
The Bachelor of Fine Arts prepares students for graduate study and to enter the professional field as artists, teachers, designers or other art-related professions. Students complete a minimum of 60 semester hours in art, including the studio core curriculum and basic art history courses.
Bachelor of Arts in Art
The Bachelor of Arts program meets the needs of students interested in art as a discipline of study within a liberal studies education. Students complete 40 hours in studio art courses, including the studio core curriculum and art history courses.
Students select a second academic subject area outside of art for a minor. Some possible minor areas include business, history, communication, or religion.
Bachelor of Science in Art Education
Students in the art education program complete the School of Education requirements, the Evansville general education program, the Department of Art studio core curriculum, plus art history courses and supervised student teaching. The visual arts education major is encouraged to earn a teaching minor in a second area.
Bachelor of Science in Art and Associate Studies
The Bachelor of Science in art and associated studies is designed for students who wish to combine a general art major with an associated field of study such as psychology, sociology, special education, archeology, art history, or business.
Students complete the studio core curriculum, two art history courses, and select a studio major. Additionally, the students complete 18 to 24 hours in an associated studies area related to their career interest.
Bachelor of Science in Visual Communication Design
The Bachelor of Science in visual communication design is for students interested in pursuing a career in an area of graphic design. This degree is structured to accommodate students with varied interests. The degree offers options for students to take traditional studio art classes or focus on areas such as business, psychology, communication, or writing. Students majoring in this degree complete a core of 27 hours in art, 12 hours in communication, 6 hours of art history, and 34 hours of electives.
Career choices for visual communication design graduates include special effects design, advertising, design for television, web design, industrial design, publishing, or marketing – just to name a few.
Bachelor of Science in Art, Art Therapy
The Bachelor of Science in art therapy is for students interested in pursuing a career in art and psychology that uses the creative process of art-making to investigate, improve, and enhance the physical, mental and emotional well-being of individuals of all ages. Students in this degree program complete the studio core curriculum, two art history courses, and 11 hours of art therapy courses. Students also complete 21 hours of psychology courses chosen to give them the best background for gaining entrance into an American Art Therapy Association (AATA) accredited graduate program. Entry into the profession as a Registered Art Therapist (ATR) is at the master's level. Additionally, a licensed art therapist is on faculty to work with art therapy students
Office Phone
812-488-2043

Office Email
art@evansville.edu

Office Location
Room 212, Krannert Hall of Art and Music