UE, WNIN Receive National Edward R. Murrow Award
Posted: August 17, 2021
On Tuesday, August 17, the Radio Television Digital News Association announced the University of Evansville (UE) and WNIN as a national winner for the 2021 Edward R. Murrow Awards.
In 2020, WNIN, the Center for Innovation and Change at the University of Evansville, and ¿Qué Pasa, Midwest? collaborated on a seven-month research and reporting project to find stories of the coronavirus pandemic in seven Midwestern states. COVID Between the Coasts (CBC) is ongoing, adding data-driven reporting on the pandemic for the historical record.
CBC Lead Reporter Sarah Kuper said, "The students' hard work and valuable points of view, combined with the expertise of Dr. Tamara Wandel and Dr. Darrin Weber, made COVID Between the Coasts a historic time capsule of Midwestern life during the pandemic. It was their contribution that put us in the position to win one of the highest honors in the field of journalism. I know I personally learned a lot by working with them."
WNIN Vice President of Radio Steve Burger said, "Because of the UE data and research, we were able to focus our coverage within a large survey area and break new ground. For example, our ¿Qué Pasa, Midwest? team on the ground in Chicago did valuable reporting on inconsistencies in the national data regarding essential workers. We reported on rural Midwestern communities that previously were not part of the national discussion of the pandemic. We showed the differences in the pandemic's impact across our survey area."
"UE is proud to have been part of telling the story of our Midwestern region in the first pandemic in 100 years and highlights the significant contributions that our faculty, staff, and students make every day in our ever-changing world," said UE President Christopher M. Pietruszkiewicz. "With UE and WNIN working together, we were able to make a difference in a way that we would not have been able to do individually and are delighted by the collaboration.
Since 1971, the Radio Television Digital News Association has honored outstanding achievements in electronic journalism with the annual Edward R. Murrow Awards. These awards are among the most prestigious in broadcast news, and recipients demonstrate the spirit of excellence that Murrow set as a standard for the profession of electronic journalism. Winners will be honored at the Murrow Awards Gala in New York City on October 27, 2021.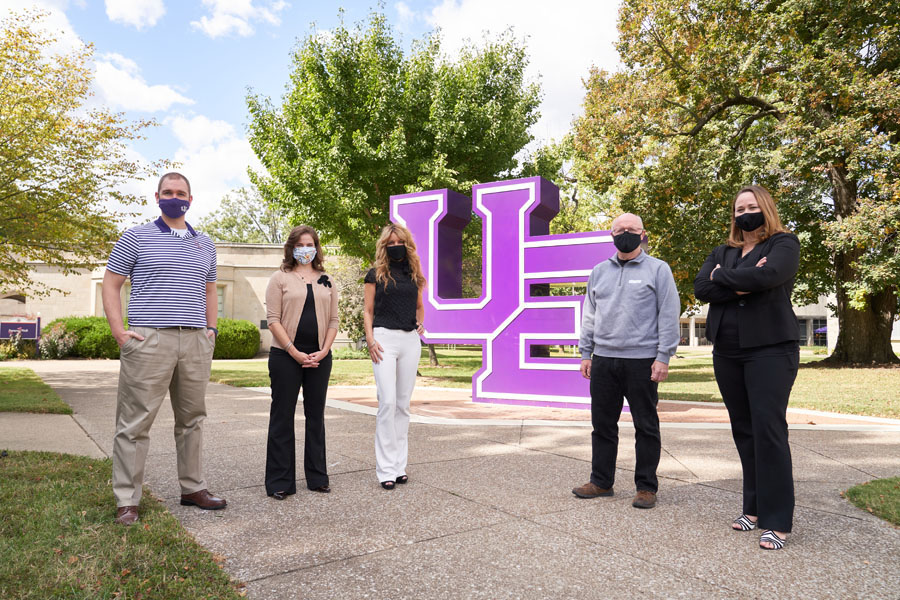 University of Evansville Students Earn Prestigious Edward R. Murrow Awards
Posted: June 11, 2021
A group of University of Evansville (UE) students have been recognized for their work on a community journalism initiative that examines the impact of the COVID-19 pandemic on the Midwest.
The UE ChangeLab project, "COVID Between the Coasts," is a collaboration between two University courses and National Public Radio member station WNIN.
The project, presented in a podcast format, examined seven Midwestern states through the lens of underrepresented populations grappling with the ongoing pandemic.
Over seven months, Aces led by Drs. Tamara Wandel (communications) and Darrin Weber (mathematics) carried out research, conducted interviews, and compiled data to tell localized and human stories.
"The research and reporting for our podcast is broader and richer as a result of the ChangeLab students' award-winning work," said WNIN reporter and producer Sarah Kuper.
"COVID Between the Coasts" earned the Excellence and Innovation and Excellence in Writing in the Region 7 group at the 2021 Edward R. Murrow Awards. Since 1971, the Radio Television Digital News Association has honored outstanding achievements in electronic journalism with annual ceremonies.
"These are some of the most prestigious journalism awards out there, and I'm so proud of our students for their work on this project," Wandel said.
"My classmates and I were able to do everything from research to interviewing and script writing," UE student Nicole Tucker. "These were all things that we didn't have a lot of experience in but with the help of our professors and WNIN, we were able to create a successful podcast series."
A compilation of "COVID Between the Coasts" is available online.
ChangeLabs at the University of Evansville are semester-long courses in which students create positive change for businesses, nonprofits, and the community. Guided by expert coaches, multidisciplinary student teams provide services or develop innovative solutions to challenges. In addition to the award-winning "COVID Between the Coasts" collaboration, other ChangeLab projects include a city-wide bike sharing program and a $90,000 solar panel grant for a local community center.
For more information, visit the ChangeLab webpage.
UE Faculty, Students Team for Addiction-Themed Documentary on Channel 9
Posted: February 10, 2020
"Epidemic: Addiction in Middle America," a five-part documentary series produced and directed by Assistant Professor of Communication Joe Atkinson and narrated by Assistant Professor of Acting Amelia McClain, will premiere on WNIN Tri-State Public Media this Thursday, February 13, at 7:00 p.m.
The series also features work by Visual Communication student Michaela Kunkler '21, who served as Visual Effects Supervisor. Department of Communication students Amanda Ackerman '21 and Brea Mullen '21 contributed cinematography to the film, while Ackerman and fellow Communication student Connor Cleary '21 worked as production assistants.
The series' first two episodes will air this week; Episodes 3 & 4 will begin at 7:00 p.m. on February 20, and the series will conclude February 27 at 7:00 p.m.
Funding for the project was provided by UE Arts & Sciences' "See the Reaching" Fund, the UE Alumni Research and Scholarly Activity Fellowship, and the UE Art, Research and Teaching Fund.
Joe Atkinson Directs Play for Evansville Civic Theatre Underground Series
Posted: February 7, 2020
Evansville Civic Theatre's Underground series will open "Circle Mirror Transformation," by Annie Baker, on Thursday, February 13, at 7:30 p.m. The production, which run four days at Studio 321 (321 N. Congress), is directed by Assistant Professor of Communication Joe Atkinson.
"Circle Mirror Transformation" follows four lost New Englanders who enroll in Marty's six-week-long community-center drama class. When the class begins to experiment with harmless games, hearts are quietly torn apart, and tiny wars of epic proportions are waged and won. The play is a beautifully crafted diorama, a petri dish in which we see, with hilarious detail and clarity, the antic sadness of a motley quintet.
Performances begin at 7:30 p.m. on February 13, 14, and 15, with a 2:00 matinee on Sunday, February 16.
Wandel Receives Second Grant This Year
Posted: February 4, 2020
Tamara L. Wandel, associate professor in the Department of Communication, recently received her second grant of the academic year for continued work with the First Amendment on college campuses. The grant is funded through 1 For All, a nonprofit educational effort to build understanding and respect for the five freedoms of the First Amendment. Dr. Wandel is one of only three professors in the U.S. to receive multiple campaign grants from the nonpartisan organization in 2019-2020.