The Department of Biology offers two majors that provide the flexibility students need to meet their career goals.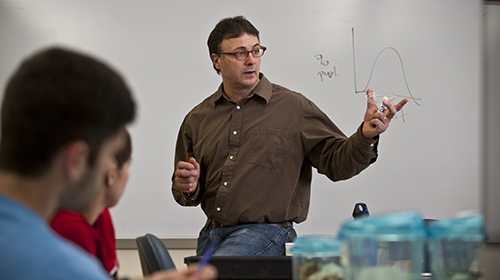 Biology Programs
With degrees in both professional and applied biology, the University of Evansville offers the preparation you will need to be successful no matter what you pursue after graduation.
Bachelor of Science or Bachelor of Arts in Professional Biology
The professional biology major provides a rigorous foundation for students to go on to graduate or professional schools. To prepare for these studies, students can tailor their area of interest in graduate school or in their area of study for programs in pre-dentistry, pre-medicine, pre-optometry, and pre-veterinary medicine.
Bachelor of Science or Bachelor of Arts in Applied Biology
The applied biology major prepares students for private sector jobs. Applied biology majors have the flexibility to incorporate a concentrated set of courses from additional areas (e.g., education, business, creative writing, political science) with their biology course work. Students seeking internships or desiring to double major frequently benefit from the applied biology major. Students who enjoy biology may be interested in other degree programs at the University. Some complementary programs include biochemistry, chemistry, environmental science, and environmental administration.
Benefits for UE Biology Students
Last year's senior class of professional biology majors tested in the top one percent nationally based upon the ETS Major Field Test for Biology.
80 percent of last year's senior class received support to conduct undergraduate research, both at UE and at other universities.
Among the 2013 graduating seniors, 20 percent are enrolled in medical school, 27 percent are enrolled in graduate programs in the life sciences, and 40 percent have begun careers in STEM-related areas.
90 percent of UE biology graduates, across the past five years, are currently studying or working in a STEM-related field.
Of the 2013 class that applied to graduate school, 100 percent were accepted.
In addition to University-based scholarship support, biology majors can receive merit-based financial aid through endowed scholarships for biology students.
60 percent of last year's biology graduating class participated in study abroad programs.
Office Phone
812-488-2024

Office Email
de3@evansville.edu

Office Location
Room 231, Koch Center for Engineering and Science