Success in the Field
Across the country and around the world, UE's biology alumni are putting what they've learned to use as they excel in grad school and in their chosen careers.
Our graduates have gone on to careers in a diverse array of fields, and have been admitted to graduate and professional schools such as Saint Louis University School of Medicine, Purdue University School of Veterinary Medicine, Indiana University School of Medicine, Vanderbilt University, Washington University, University of Louisville, and the University of Illinois.
94 percent of UE biology graduates, across the past five years, are currently studying or working in a STEM-related field.
In the last two years, students who have gone on to medical school are at the top of their class in performance. Major field test performance for biology majors has been over 90 percent in the last few years.
Kevin Myers
Class of 2006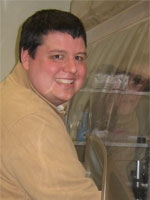 As a PhD candidate in the Microbiology Doctoral Training Program at the University of Wisconsin-Madison, Kevin Myers feels that the education he received at the University of Evansville prepared him well for graduate school. "The courses at UE were challenging and not only taught me the standard material, but also introduced cutting edge and current research topics in the upper-level courses."
Participating in undergraduate research through the University's UExplore Undergraduate Research Program also provided Kevin with hands-on experience. "I was involved in undergraduate research for two summers. The ability to do real, hands-on wet lab research is invaluable. Plus, I was an author on a scientific research article, an opportunity few undergraduates receive. This research experience greatly influenced my decision to attend graduate school."
Kevin appreciates the guidance and support from his UE professors. "The professors at UE had an interest and a passion in helping students. They were always more than willing to help students work through the challenge of the classes. They challenged us, but didn't leave us on our own. With plenty of hard work and the faculty's commitment to help, students at UE succeed."
Office Phone
812-488-2024

Office Email
de3@evansville.edu

Office Location
Room 231, Koch Center for Engineering and Science